After our recent experiences with used cars, my wife and I decided buying a new car was a better idea. So I went online and looked around. Unfortunately the only place that had a manual Versa hatch was Dobbs Nissan (now Autonation), and they have a pretty bad reputation. We went anyways. They had the car listed on their website for $12,999. An S model hatch with no options and that was fine with us. So we took a look at it, and decided to work on financing. Now, our credit situation isn't perfect. I have never financed a damned thing in my life. I have no credit score at 32. I always followed my Grandfather's advice of "if you can't afford to pay cash for it, you can't afford it." As or my wife, she has some student loans and that's about it. So nothing bad, but nothing really good either.
As I said, they had it listed for $12,999 on thier website, and the salesman starts to write it up for $14,275. I pointed it out and I got the "That's not the same car" speech, even though it was the ONLY manual Versa this side of Nashville. I was tempted to go to Nashville to get one just to avoid Dobbs. We already own a Versa, a friend of mine has had one since '07 and it has been a great car, so it's not like I needed to test drive one. Well I figure I'd go home and print out the add and come back and argue later, so I told him to run the financing with those numbers to see what we can come up with. This was on Saturday. I was told I'd hear from him early Monday morning. Well Monday afternoon arrives and I still hadn't heard anything. So I call Anthony, the salesman, and he says to me "Sorry i didn't call sooner but I only get paid if I sell a car and I couldn't get you financed so I didn't bother." Wow, real classy. So I drive into the dealership, figuring something must be wrong and I wanted to talk to the finance people myself. Well I get in there and I get stuck with Anthony again. This time he says well we couldn't get you financed with nothing down. I told him I wanted to put down as little as possible when we spoke the first time,but that I could put down up to $5,000. I asked if he had bothered running ti with the down payment and he told me no. So I waited while he did. He then returned with $4,500 down and a
27% interest rate!


WTF? It would be better to take the money out on a cash advance on a credit card than finance it that way. He shrugged and told me it was the best they could do. So I walked out.
I was so pissed off from this situation I went home and got on Cars.com. I looked up what other new cars we could get for under $15k. There were a few options but none of them stuck out at me except one. The Mazda2. When the Z when all Christine on me, we had a Mazda6 for a rental car, and I was really impressed with the suspension on it. I mean REALLY impressed. I have a bad back, and I used to think being comfortable over bumps meant body roll in the corners and lackluster handling, but the Mazda6 did both very well. So we drove down and looked at a Mazda2 Touring on the lot at Gwatney Mazda in Germantown. We didn't know what to expect out of the 2 as neither of us had driven one. So we took i out for a drive and both of us fell in love with it. It is comfortable, well equipped, and easy for me to get in and out of. It handles great, has plenty of get up and go. My wife and I both had the same thought, it reminded us of driving our NX2000. My wife has not been excited about a car in years. Every car we have driven she always responds with "I'd rather keep the Civic." and that included a new Civic and a Honda Fit. She was all set to give up the Civic for the Mazda2 the day we drove it.
So we filled out paperwork and set to financing. The price they had offered us was $15,375. That's almost $2,000 off the list price for the Touring. They then worked out financing and told us $2,500 down, and 11% interest.

I was excited. So we set things in motion and picked her up last night. Our salesman Greg was fantastic. He went out of his way to get things arranged on a time that worked of us, even offering to come in on his day off to deliver the car. He went through the whole car's controls with Pam, and even walked us around the dealership to introduce us to the Service Manager and show us where to bring the car in for repairs and oil changes. So this morning my wife went to work in her first new car.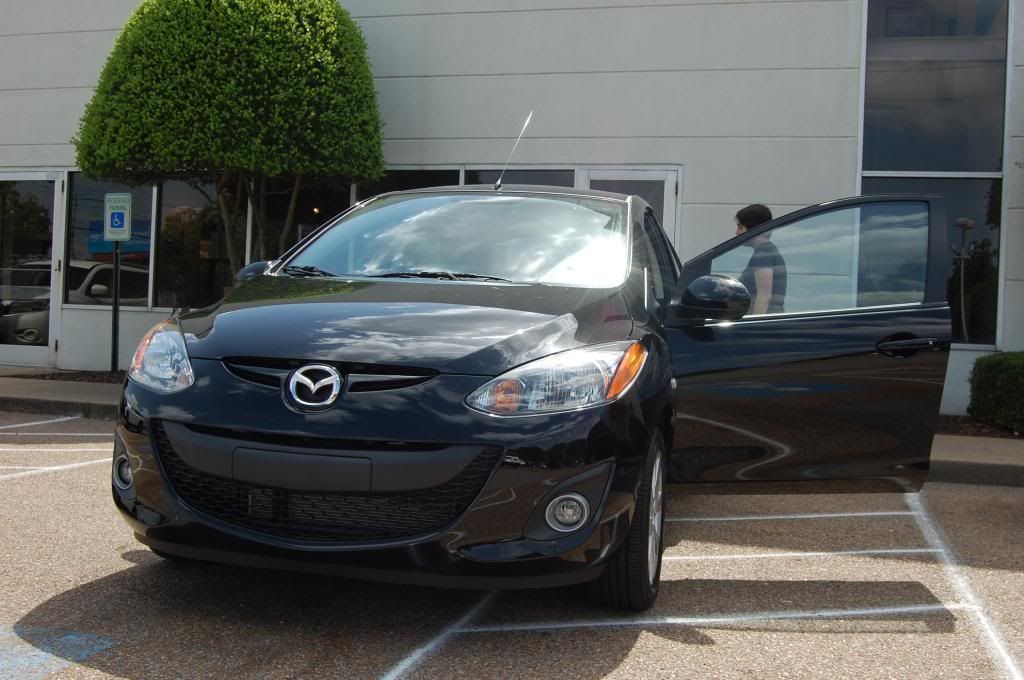 Plenty of Cargo space.
1.5L VVT engine.
We're very happy with it so far. The 0w20 oil seems a bit different but no big deal. It's equiped with power windows, locks and mirrors, keyless entry, steering wheel stereo controls, bluetooth connectivity for the phone, cruise, air, 15" alloys, fog lights, stability and traction control. And lots of other neat little things that would be a pain to list.
TL:DR
Nissan dealer was a jerk. Went to Mazda, bought a better equipped Mazda2 for a much better deal. We love it.