First, I'll just apologize.
I'm sorry.
Take it for what it's worth. I've been absent from this sub-forum for a very long time. I've been working on other projects and doing cool stuff. [Ok, so it's not all cool. Twelve-hour swing shifts aren't very cool, and I do a lot of those...] Some of you who are facebook friends get to see the things I do when I'm not on the intrawebnets. I really just don't have the time to be involved with the forums like I did back in the day.
Also, the title is terrible. I couldn't really think of anything more creative.
Lastly, this thread is probably going to suck.
I'm sorry.
This is my Father-In-Law's convertible (FILvert).
Here's a thread about it.
If you don't want to go look, here's a picture from when he first got it: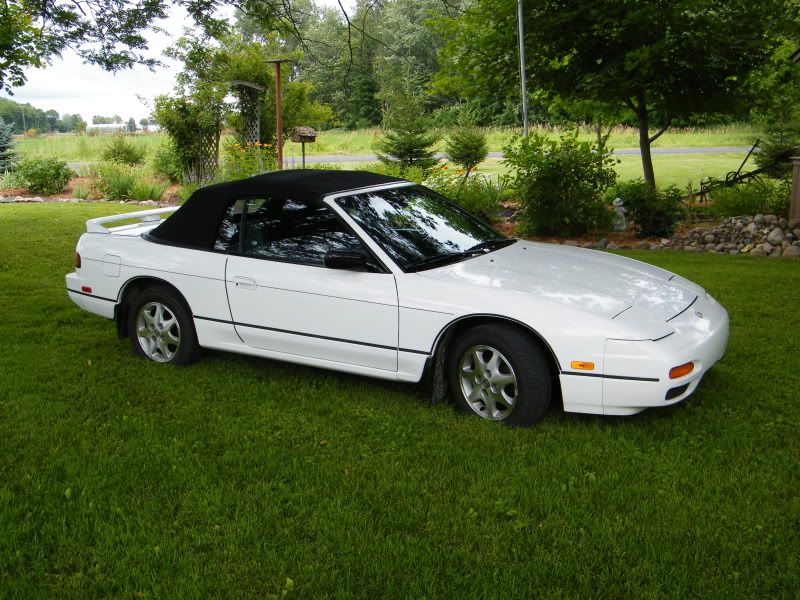 He's loved that car and kept it very stock. The only thing the car has ever had done to it is a front upper strut tower bar, a replacement head unit, and a set of 17x7 962's I handed down to him. Being an old-timer he has always been hesitant to change anything because he had in his head that it might be worth a lot of money some day if it were all original. It might be, but that's no fun.
A few years back I built an
S14 with an S14 SR20DET
. When my father-in-law went for a ride in it, he got bit by the bug. "Wow, this car is really fast. Can you make my car fast like this?" Funny he should ask that because I'd been secretly plotting to do an SR swap in his car for a long time. I joked with my wife about doing a fully forged engine with a built valvetrain with a decently sized turbo under a stock manifold. The idea was to keep it very stock looking and just leave the boost turned way down so it was just a peppy street car when her dad would drive it around. Then if we ever wanted to borrow it, crank the boost up and go have a riot.
I all ready had an oil-starved S13 SR that came out of my S14 when I bought it. I was made aware of a deal on another S13 SR engine from a local drifter guy that I scooped up. I figured between the two of them, I could put together a pretty sweet engine to one day put in my father-in-law's convertible - you know, just some winter while it's in storage in my shop. He wouldn't even notice the third pedal.
It turned out that my father-in-law was kind of serious about doing the engine swap in his car. We sat down and talked about it and decided to do a bone-stock SR swap. He wanted it to maintain all the creature comforts of his convertible like cruise control and air conditioning with factory reliability while making more power. He even wanted to keep the automatic transmission, but I drew the line there. I did not want to try to source and install an automatic SR transmission. Besides, no one likes a slushbox except drag racers and lazy people.
Summer 2014, I started seriously gathering parts and preparing for doing a full-blown SR swap on his car. I was planning on starting the swap last fall, but my plans fell apart quickly. Between personal issues and another brutal Michigan winter, I wasn't able to start the project until just a few weeks ago.
I took some time off of work during the fourth week of March to dive into the convertible as well as doing some upgrades on my S14. If all had gone according to plan, this car would all ready be done and on the road. However, in typical fashion, that plan was quickly ruined. You'll see as this thread unfolds. I'll be back to post progress pictures and stories as time allows.