It's been a year since I swapped springs to RS-R Down on my Q60 and so far, so good.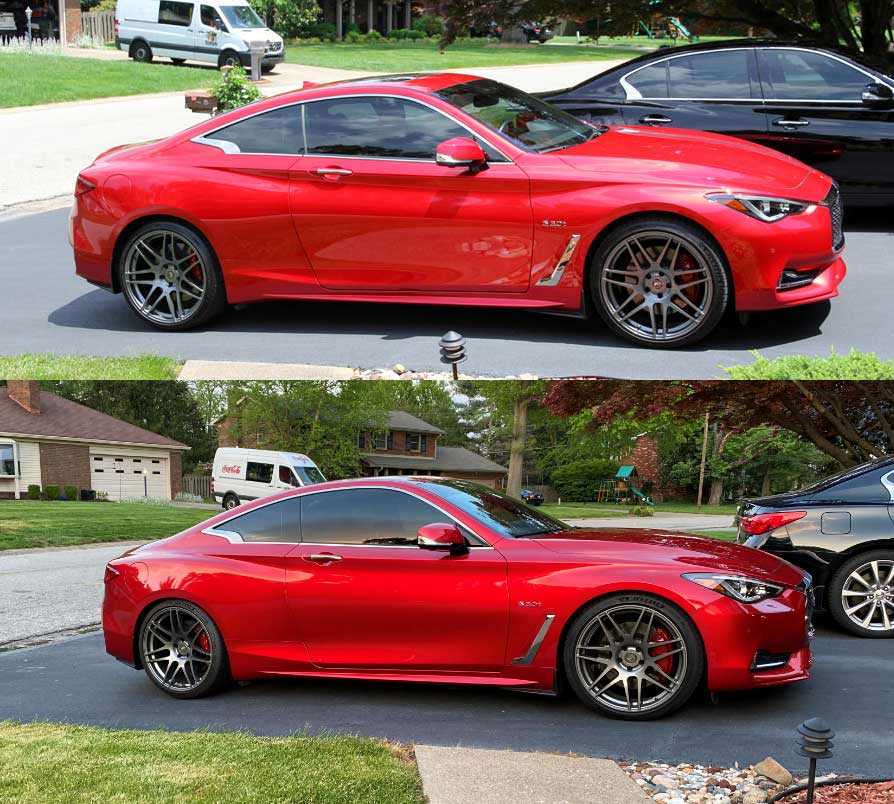 Few Installation viewpoints:
- Infiniti sure made if a pain in the butt to replace the rear springs as you need to pull seats, panels, disconnect rear airbags, and use every tool in the tool bag to remove the bolts from the plate that covers the top of the strut tower in the rear
- Front springs were cake, simply need to remove the top nuts, the bottom bolt and pop the A-arm loose
- If you are doing it by yourself make sure you have a long pry bar to force the suspension down in order to reinstall the springs. I had a 5' bar that I would stick on my arm pit and press down as a way to keep both hands free. Learning experience the first time but the second one goes on easy
- Make absolutely sure you have all the rear top-bolts tight on the rear strut as you surely won't want to remove everything again
After a year, and the springs being fully settled, the cars toe and caster is still within factory spec. Camber is off a bit, I have front and rear camber kits to eventually install but have not had any tire damage due to camber alone, nor really expect any. Quite happy with toe not being off. In general I HIGHLY suggest you immediately get an alignment and consider camber kits during installation.
Overall review:
The drop is not too serious on the AWD and I've not had issue with dragging/scraping at all. I am quite careful with front curbs when parking to avoid damaging the bumper. From a performance perspective it's similar to the factory suspension, which seemed somewhat stiff anyway. Springs, alone, did not seem to drastically improve handling. If you really want to improve handling performance then replacing the factory sway bars with Hotchkiss is absolutely the most noticeable improvement on these cars.
This view shows the rear wheels still a bit tucked, this is due to camber. Once the camber kits are on and aligned the overall "flushness" should be exactly where I want it.