Headlight issue. Seems so many of these cars are having headlight issues (well, they are up there in age). Since my search hasn't turned up a definite answer yet, I'm starting a thread, hopefully when I resolve this, it may help someone else in this predicament.
Here we go.
Got this car, Someone had wired in HID's, and someone else partially yanked them out (no ballast boxes or bulbs left, just the relays and wires).
The main beam connectors had a harness/jumper plugged in for the HID's into the H4 3-prong connector, these were somehow wired (sketchily) to the foglights as well. I unplugged them, disconnected all of the extra wires and made sure what I could see was straight. Found some bulbs in the glovebox, put them in and plugged them up. Tried it out.
Result: No parking lights, right Front headlight not working, high beams won't turn on or flash. Signals work, hazards work, foglights work.
Testing with a multimeter, found that all 3 prongs of the RF connector had continuity between them

. After a quick internet search, I went and checked the rotary switch; one wire in the connector melted and the plastic fused into the switch. Had to pick and pry the connector to release it from the switch.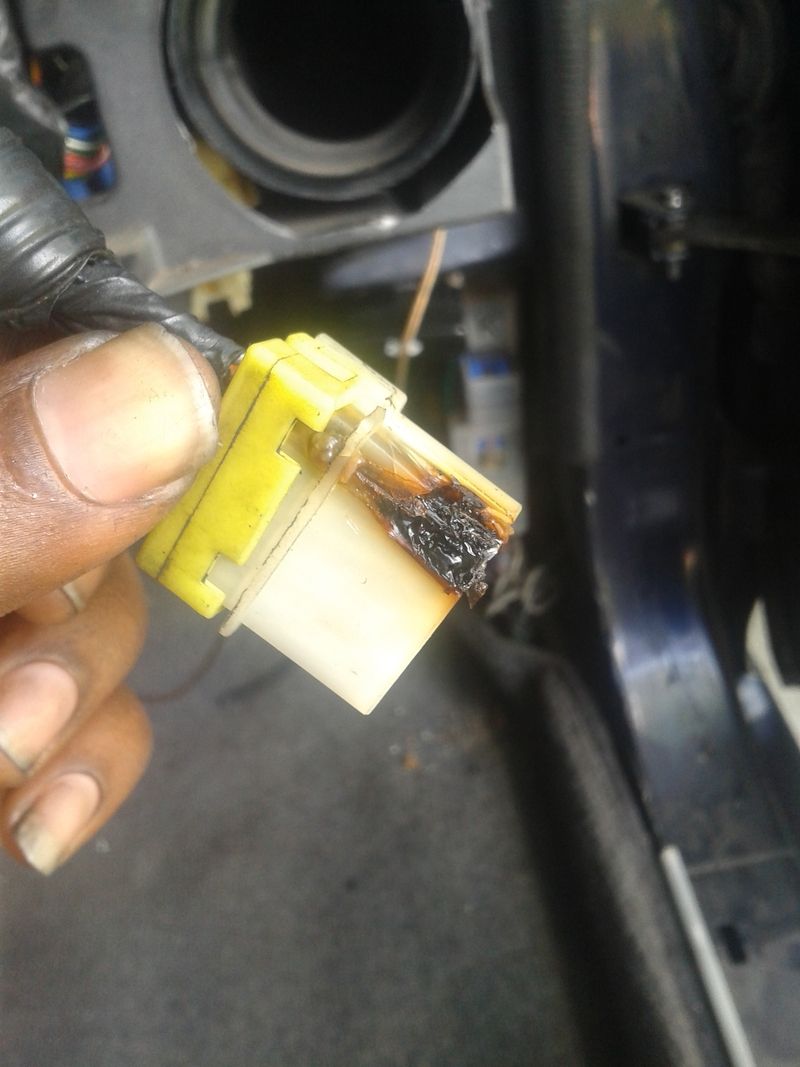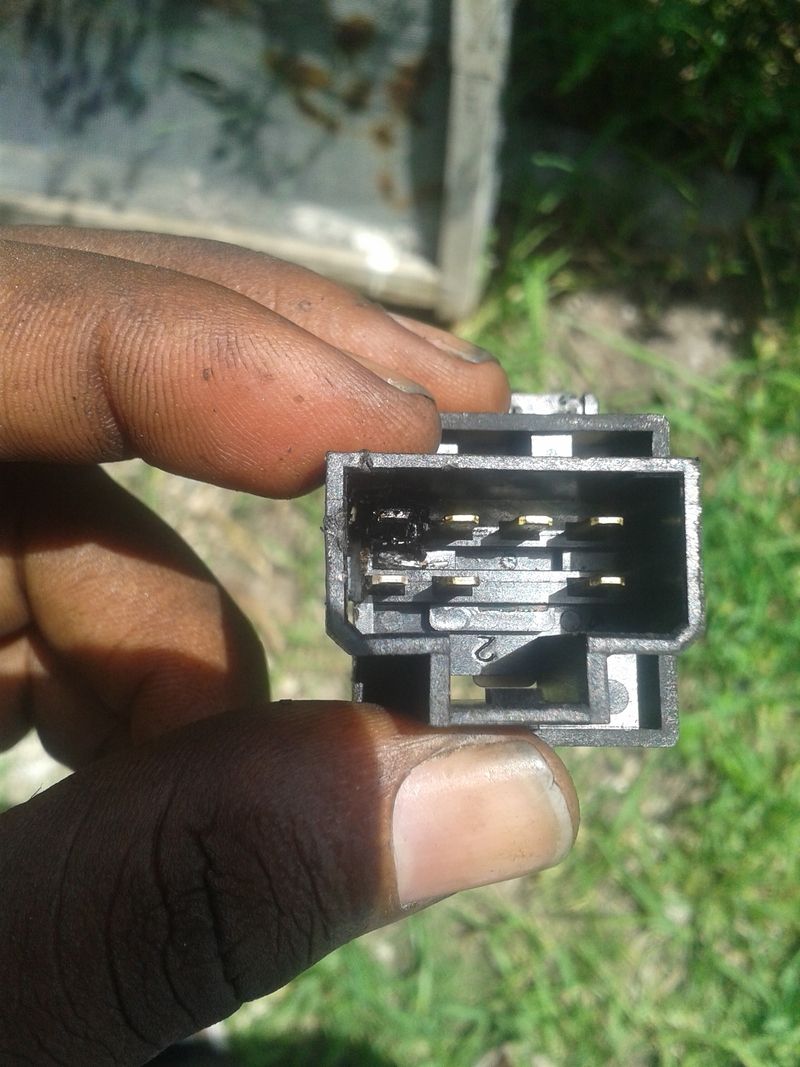 Got a replacement switch and connector, wired that in, plugged it up. Didn't hook up the right side light at this time, just in case the replacement switch would have burnt out as well.
Noticed that the high beam indicator came on once the lights were turned on, even when only the parking light should be engaged. No matter how I move the stalk. Unplugged the battery, went at it again with the multimeter. The red w/green stripe wire (Which I have found out is the RF high beam wire) has connectivity with ground. The other 2 wires now test fine. At this time, I didn't know this wire was the (right side) high beam wire. At the relay, this wire has the same issue. Went in the Cabin to see if I can trace this wire to something else, where it runs other than the rotary switch. Found it at the signal stalk.
Unplugged the stalk to see if the short was in that, no dice; testing the wire in the unplugged connector it has connectivity to ground as well... This has me thinking that the short cannot be inside the signal stalk itself, and the wire has to be shorted to ground somewhere, right? Is there any other component that I can check?
I've searched google, nico, sau, driftworks, zilvia, skylineowners...EVERY site where anything skyline or RB swapped has a headlight or wiring issue... Most people have solved the issue with the switch, bulb, or relay...

I haven't given up, I'll be back at it tomorrow morning (Today was a REALLY rainy day as well...) continuing to poke around with my multimeter. I just want to see if anyone can help me narrow down my search, give some insightful info or tell me about something I've missed/overlooked.

Oh yeah, last bit... THIS may have something to do with it, but I'm not entirely sure...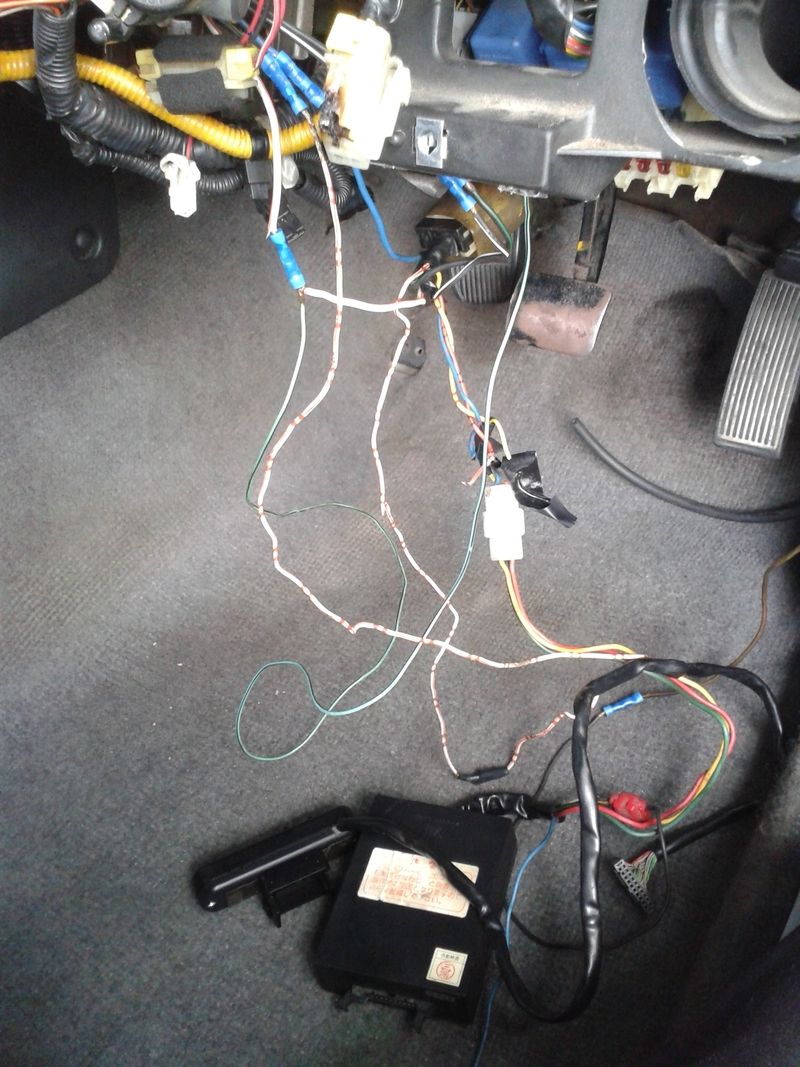 I'll get more detailed pics of this nest if anyone thinks this could be an issue.