Nissan Motorsport International, Limited (NISMO) is Nissan Motor Company's performance division. Formed in 1984 as a result of a merger of two motorsport departments, Nismo cars have participated in JSPC, Formula Nippon, JTCC, 24 Hours of Le Mans and 24 Hours of Daytona. In addition, NISMO has built performance parts for Nissan's commercial vehicles such as the Z, Sentra, and 240SX, as well as full-on production vehicles, such as the 350Z NISMO, 370Z NISMO, and Juke NISMO.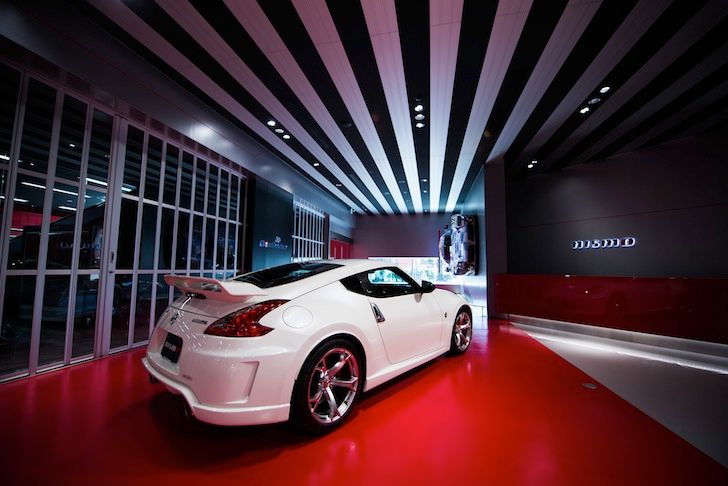 In early 2013, Nissan held the grand opening of its new NISMO headquarters in Yokohama, Japan. Nissan CEO Carlos Ghosn was on hand to deliver the brand's mission statement of playing an even more prominent role for the company's performance car and motorsport activities:
Carlos Ghosn wrote:NISMO will democratise performance and bring new excitement to the Nissan portfolio with a broader range of affordable and innovative performance models for more markets and more people,' said Mr. Ghosn. 'Whether it's a small car or a sports car, if it's wearing the Nismo badge it offers something special – quality, functionality, and efficiency, with Nismo's distinctive styling, sporty handling and dynamic performance capabilities.
In addition to a new product line, NISMO introduced the GT Academy in a joint venture with Sony Entertainment.
Nissan North America wrote:Nissan and Sony held the first GT Academy in 2008, and since then the program has been defying both common sense and motorsports tradition. The academy takes people who are good at video games and, in a matter of months, turns them into professional drivers.

In 2008, Spain's Lucas Ordonez was a 23-year-old student who had never driven a real racecar. Then he won GT Academy Europe. This year, he was on the podium at Germany's famed Nürburgring, and has a shot at the F1 circuit.

In the summer of 2011, 19-year-old Welshman Jann Mardenborough won the second installment of GT Academy Europe. Six months later he had an international racing license and by January, he was standing on the podium with his GT Academy teammates at the 24 Hours of Dubai.

2011 also saw the very first edition of GT Academy USA. Bryan Heitkotter, a laid-off parts deliveryman from Fresno, won the competition. He went on to train alongside Jann Mardenborough at Silverstone, and stood with him on that podium in Dubai. In 2012, he competed at the legendary Indianapolis Motor Speedway. To recap, in 2011, he was unemployed. In 2012, he was racing at Indy.

In 2012, Steve Doherty, a mechanic from Plainfield, Illinois, took GT Academy's checkered flag and the cherished red helmet in the show's finale. From there, he raced under the pseudonym "Dan Mitchell" (so as not to give away the show's ending before it aired) in various development series in Europe, working towards his international racing license. In January, he teamed up with three other GT Academy drivers to race to a top 10 finish in the Dubai 24 Hours.

The dream happened for these guys. The question is: who's next? You?
In addition, NISMO has experimented with several Nissan vehicles, including the ludicrous Juke-R and the NISMO Leaf RC race car.
Armed with a new product strategy, the new NISMO arm will provide production vehicles as well as manage the company's overall involvement in motorsports activities around the world. It is an exciting time for Nissan!