Hi fellow CA18 enthusiasts, Id like to share with you my Nissan Exa CA18DET build. I have a build thread on nissanexa.com but id like to share it here aswell.
Ive been on these forums before but my old username couldnt be found so i created a new one.
Ill just copy the posts from the site to here and give you guys a read of where it at with the build.
CHAPTER 1
Now im not sure if anyone on here remembers me anymore so let me tell you my exa story.
So i have decided to start another exa build thread after my last on ended prematurely after i ended up parting the car around 3 years ago. I havent been on here much at all in the last few years due to most of the older members moving on and life in general but i have been slowly collecting parts for my latest project. Buying my first exa and joining these forums back in 2002 i always wanted a turbo exa but during the years in never eventuated mainly due to alot of bad luck with these cars but i never lost sight of what i wanted to build. I admit there were times where i had enough and just wanted to give up and move onto something else (rx3, XY GT, 1200 ute / s13 silvia) but somehow i always came back to the exa.
Anyways enough of the sentimental stuff, heres a little history and where i am upto currently with the project.
This was my first exa back in 2002, not much to say except it was clean, stock CA18DE with extractors and 2.25" exhaust, loved the black paint and 18" rims. But ended up scraping the whole car which i regret now.
In 2005 i beleive it was, i bought another exa which wasnt much to look at but already had a turbo conversion done with afew other mods aswell.
It came with:
- S13 CA18DET Motor
- FMIC Intercooler
- S15 Ballbearing T28
- Microtech ECU
- M&W Igniter & Coils
- Turbosmart Boost Controller
The only problem with the car i was told was that the ECU wasnt connected and the car wasnt running. So i took the car to JEM in Moorebank at the time to sort out the wiring issue and give it a tune and made
[email protected]
on 6psi and thats when my dramas started.
My tuner told me that the turbo was leaking oil and that it would need to be rebuilt, so it did and got afew other parts along the way aswell. Low mount manifold, upgraded wastegate actuator (14 PSI) and a 3" dump pipe.
Installed everything on the engine and cleaned up alot of the wiring aswell also added a RB20 throttle body which is 60mm and direct bolt on.
Was very excited when i took it back to get it fully tuned and left the car there for the week. Afew days later got a call from the tuner and told me that he suspected a problem withthe motor. When he would start it it would crank over way yo quick so he did a compression test and found out that 3 and 4 cylinders had low compression (40 psi). I wasnt happy about it at all but it was a valuable lesson to learn and was told before never to buy someone elses project as you never know what condition the car is in.
Anyways the car sat at my mechanics for a year or so and decided to finally sort out the dilemmas, i decided to put the engine from the black exa into the red one and sell it as stock and build a motor for the black one.
Did the conversion and used the red exa as a daily and began to work on the black one.
A year or so passed and i built the engine, it was all stock as i wasnt going to push the motor that much.
Then i got a little carried away and decided to sell the T28 turbo, exhaust manifold and dump pipe and decided to try something different and i bought a whole bunch of parts which included a top mount manifold, external wastegate and a T61 turbo.
Mounted the turbo and realised it leaned to far forward so i cut the top of the radiator support for clearance.
Still had clearance issue with radiator so i got the exhaust manifold modified to bring the turbo closer to the engine which made it fit alot better.
Fitted the wastegate to check clearance between radiator. All good.
Cut away some metal next to the chassis rail to make room for the piping and got the Intercooler in and made up the piping with silicone bends.
And thats as far as i got with that build this was 2007.
2010 - The Present
Not much has happend since 2007 in regards to the exa, marriage and work took away most of my time and money so the car just sat in the garage. Moved house and that made me realise that i needed to pull my finger out and finish what i started many years ago. So i ended up parting out the black exa only keeping what was in the engine bay and the bare rolling shell was picked up by tow truck and taken away to a scrap metal yard. :sadface:
This is what im left with today.
Once again its not much to look at but im not really concerned about aesthetics but rather performance, my ultimate goal is to have the car run 11 second quarters and alot of people have laughed at me but thats what motivates me even more, now i know i might not get there but ill give it a go and see what happens.
I have decided to build a new motor thats able to handle the turbo with forged pistons and rods, tomei head, etc. With expectations of a minimum
[email protected]
and ideally
[email protected]
which i will need to acheive a 11 second time slip. I will be using the same T61 turbo and manifold for the new build which is quite capable of supporting
[email protected]
at 30psi althought it will be abit laggy.
Started researching and found out about the euro 4 port ca18det head which has 4 intake ports without the butterfly system and the centrally located injectors compared to the 8 port JDM head where the injector fires into one port and the other being a dry port..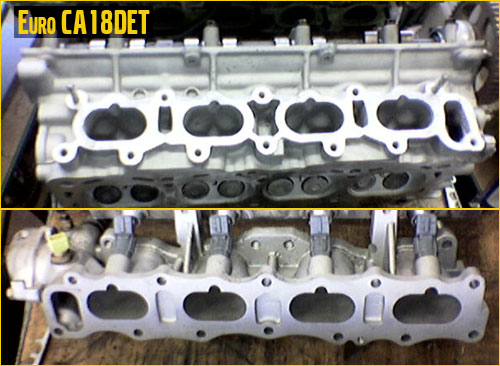 So i got onto the UK silvia/180sx forums and found a head and got it shipped from the UK. In that time i picked up Tomei 270' / 8.8mm Cams, Tomei Valve Springs, Tomei Cam Gears. When i finally got all the parts i sent the head away to get ported and reconditioned and it came out like this.
Was lucky enought to find a custom CPC inlet manifold to suit a FWD CA18DET. Looks abit rought but will get it polished eventually.
I also thought about sorting out the gearbox and have found something suitable. Guys in the US do 9 second quarters and wheel stands on slicks all on a standard box. It will be fun thought fabricating an adapter plate and mounts, driveshafts, shifter linkages and god knows what else. Hopefully the exa box holds:blinknrol
Also got another brilliant idea and bought this but this is something for the future and alot more fabrication.
Thats pretty much where i am upto with the head being done my next step is to sort out pistons and rods and then i can send the engine away to my engine builder. Still need to figure out what injectors and afew other bits and peices but im pretty much on the home straight.
Thats it for now, hope you enjoy the read.