So, I suck.
Let me elaborate.
I claim to love cars and I really do, more than people in most cases, but my behavior towards them and my care of them makes me a partner whose "love" is as destructive and toxic as that stripper you went out with. You remember, "Sparkles," the one that stole stuff from you, banged your friends and left you with a venereal disease? Yeah, I always hurt the cars I love. I beat them, I neglect them, they break, I lose interest and they go to an undeserved grave. So, again, I suck.
It's the ADD, really. I always have grand plans and good intentions, but they never come about. I get in over my head and s*** just doesn't get done. The first step in correcting a problem is recognizing you have one. I have one and I want to break the cycle.
The reason I needed a new car and bought the BRZ is because all my "race cars" were broken. The reason I have not messed with the BRZ is because, as I said, I suck. She's that "good girl" and I'm that former bad guy who doesn't want to hurt her like all my old flames. It's working well, not messing with it.
So, 12 step jargon out of the way, let's look at my latest victim, a 1994 R32 Skyline GT-R. This is how it looked when I got it.
The previous owner had the engine done and the shop used a huge Holset turbo off a Volvo diesel truck. It was laggy, but when it came online hold the hell on! I like overkill and lag is not as bad to me as it is to others. Maybe I like the foreplay or something, but it's not a dealbreaker.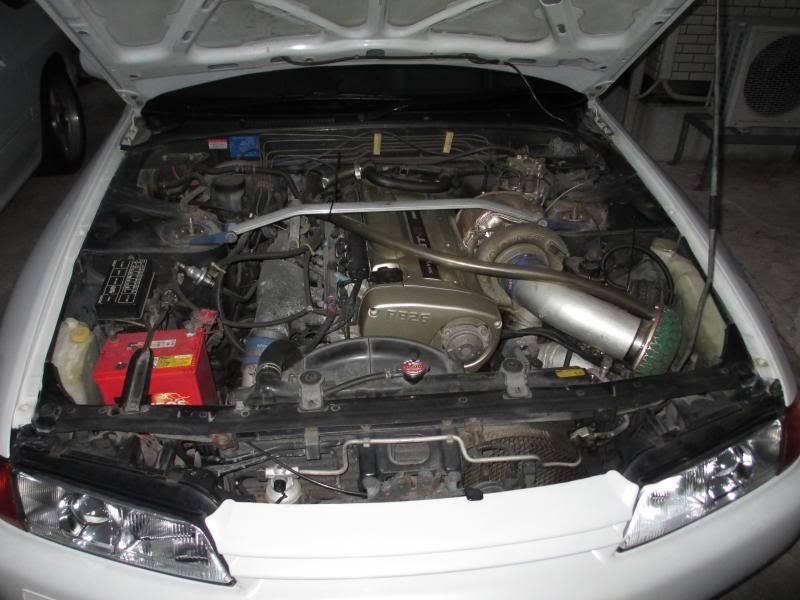 This is what that turbo is supposed to be attached to.
The guy told me to overhaul it. Hell, he gave me the kit to do it. I kept putting it off, though, and one night, THUD! I was hoping I popped an intercooler pipe or something, but no, it was done.
I could have just put a fresh turbo on it and got back on the road, but as I started to get into it I didn't like the way it was done. Stuff like this.
This connects to that connects to that and before I knew it I had really tore the car apart. That old MO had repeated itself. I was overwhelmed, busy with life and I kept procrastinating. The car has sat in my yard for, honestly, I don't remember how long and I don't even want to calculate it; I already feel like a serial killer.
OK, what can I do? Well, what do we already know. Oh yeah, I suck. Yeah, it's time for me to get painfully honest with myself, suck up my pride and hand the car to someone else while there is still a chance to save it. Here's how it looks now.
I enlisted a local shop, one of the few whose work, I wouldn't go so far as to say I trust; let's just say they wouldn't f*** up on purpose and that's actually sort of rare around here. They are down the street from the house and after looking at the car confirmed the shell wasn't too bad and that after they got caught up they could fix the car.