First time poster - long time lurker.
Over the past year, I have entirely rebuilt a 96 KA24DE and swapped it into a 79 Datsun 620 620.
It has the standard KA/240 5 speed behind it (also rebuilt).
Wiring specialties harness custom made for this application and a 96 KA ECM.
Everything is plugged in and terminated per wiring specialties documentation.
Grounds all over the place, chassis, body, starter, alt, ecm.
Brand new battery.
Triple checked the timing - i.e. - I put it at TDC with the finger in the #1 hole trick, long ratchet extension dropped in plug hole is at its top movement, the crank pulley is on 0deg, the #1
Cam lobes are pointing out at TDC (pics below).
Proper S14 dizzy.
Good spark on all 4.
Walbro 255 FP and a Tomei FPR set at around 40psi.
I removed the fuel rail and rigged up water bottles under each injector. They all spray while cranking (a LOT actually).
I just cant get it to start.
If I spray starting fluid it WILL start and actually sounds like it running for about 30 sec.
I'm pretty sure its in time or close if I can get it to run on fluid - please correct me if I'm wrong.
What am I missing?
Any help is greatly appriciated.
Theory - Its almost like the injectors are spraying TOO much and flooding the cylinders - like its not presenting an nice atomized spray on the compression stroke - its more like a giant puddle that the plugs cant ingnite? I dont know.
NOTE - I do have another S14 ecm and a another S14 dizzy on its way from the ebay.....thats only thing i can think of trying.
some pics:
TDC cams: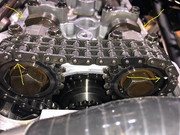 TDC crank pulley: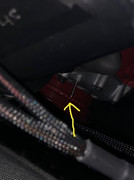 FPR: