I am posting this build thread for anyone interested in seeing a different kind of Subaru
I started this car about five years ago, and have been driving it for a couple of years.
I wanted to build a car that had an old style roadster look and feel with modern drivetrain and
modern accessories. It has a Subaru 2.5 boxer engine,five speed manual, and all wheel drive.
It has cruise control, antiskid ( deselectable ),air conditioning/heat, tilt steering etc. It is emissions
eguipped and street legal. It is registered in New York state and has about 1500 miles since completion.
The chassis is steel tubing and the body is made from .060" thick aluminum. I " designed " and built
the car from scratch, using the engine, drivetrain, suspension and steering from a Subaru legacy. The
design was mostly trying to make a strong and safe chassis, and then covering it with an attractive
body. Most of the body was mocked up first in thin cardboard, then hand formed using a hammer and
bean bag, and then an english wheel. I hope you like it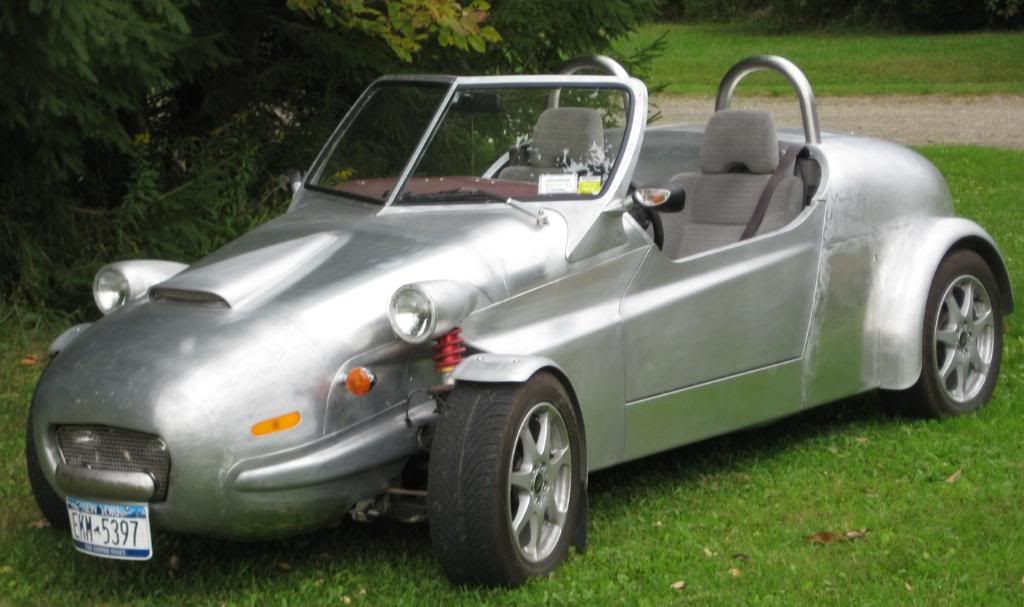 I'll post pics and descriptions below
the shop... sort of a necessity in western New York in the winter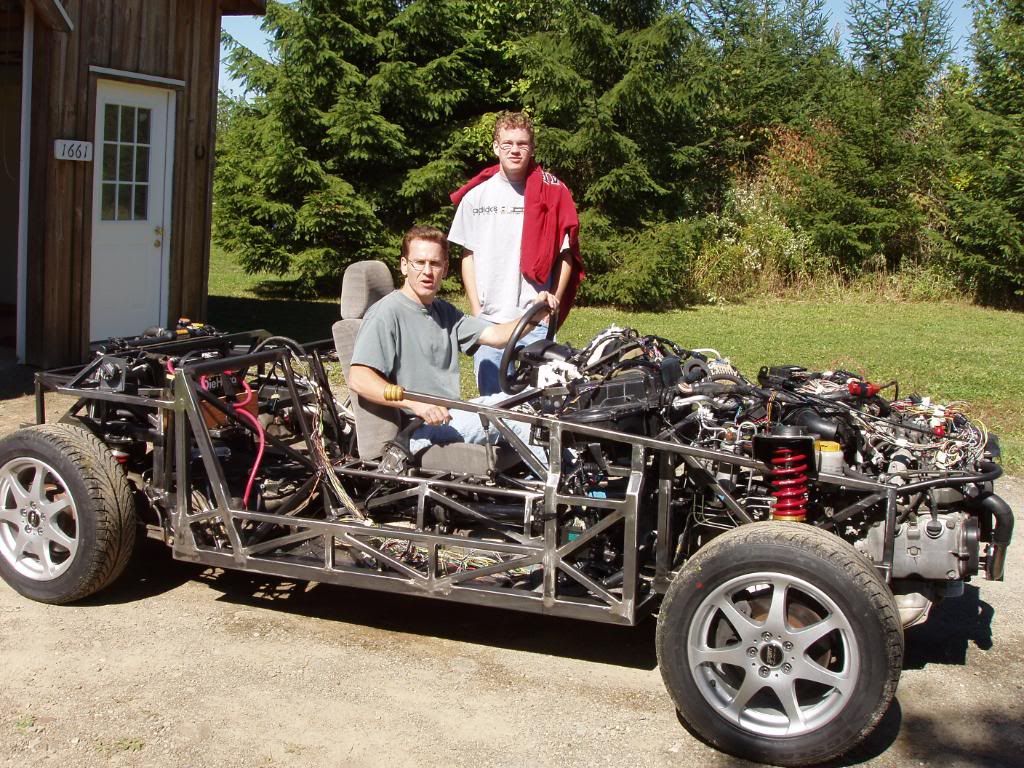 the chassis... not a lot of interesting pics prior to this
the radiator is in back... no room up front..coolant runs under floor in stainless tubing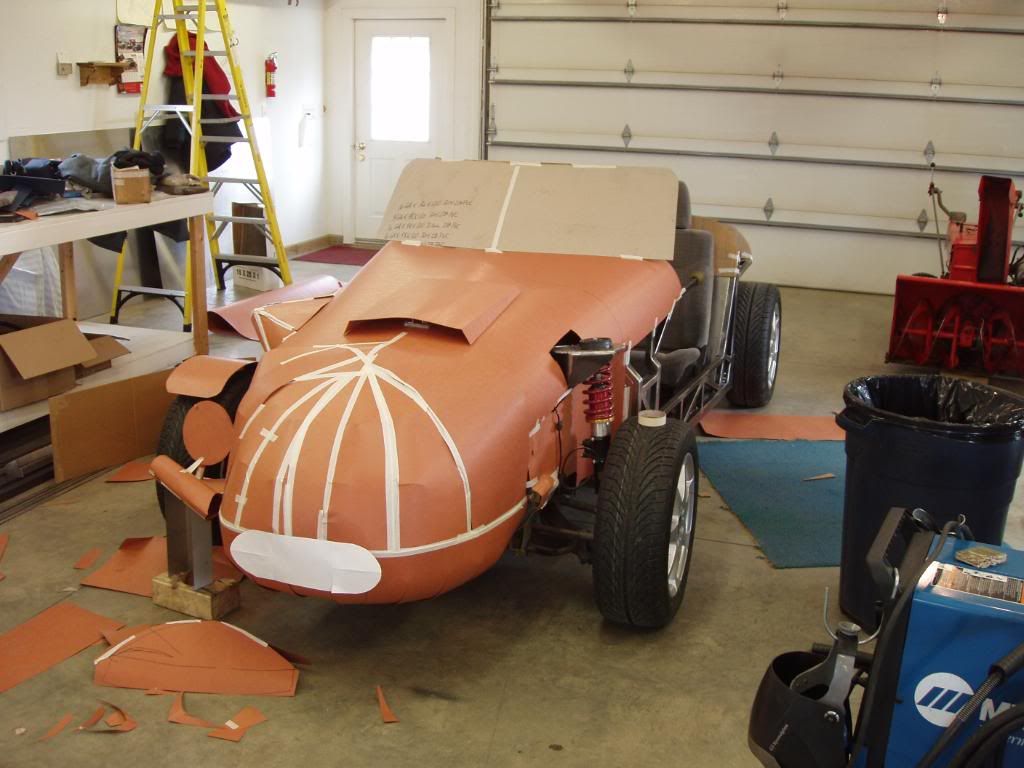 some early ideas in cardboard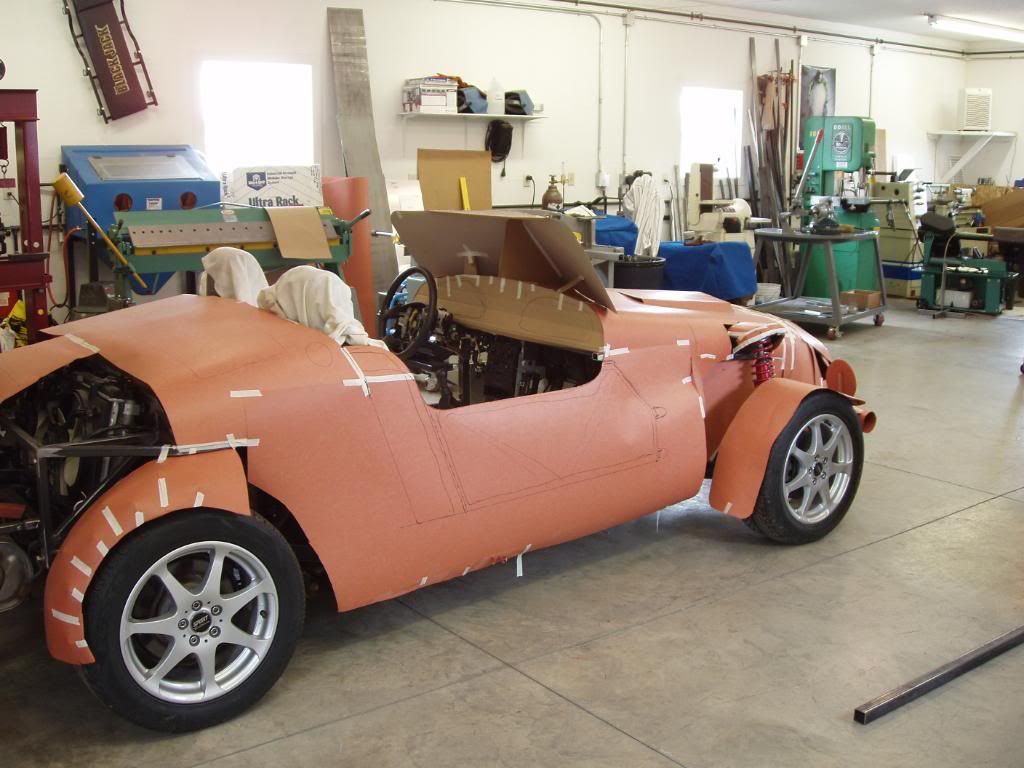 more cardboard... the car has coilovers on all 4 corners
making a cardboard mess....the seats are subaru
the first piece of the body...hammered over a wooden buck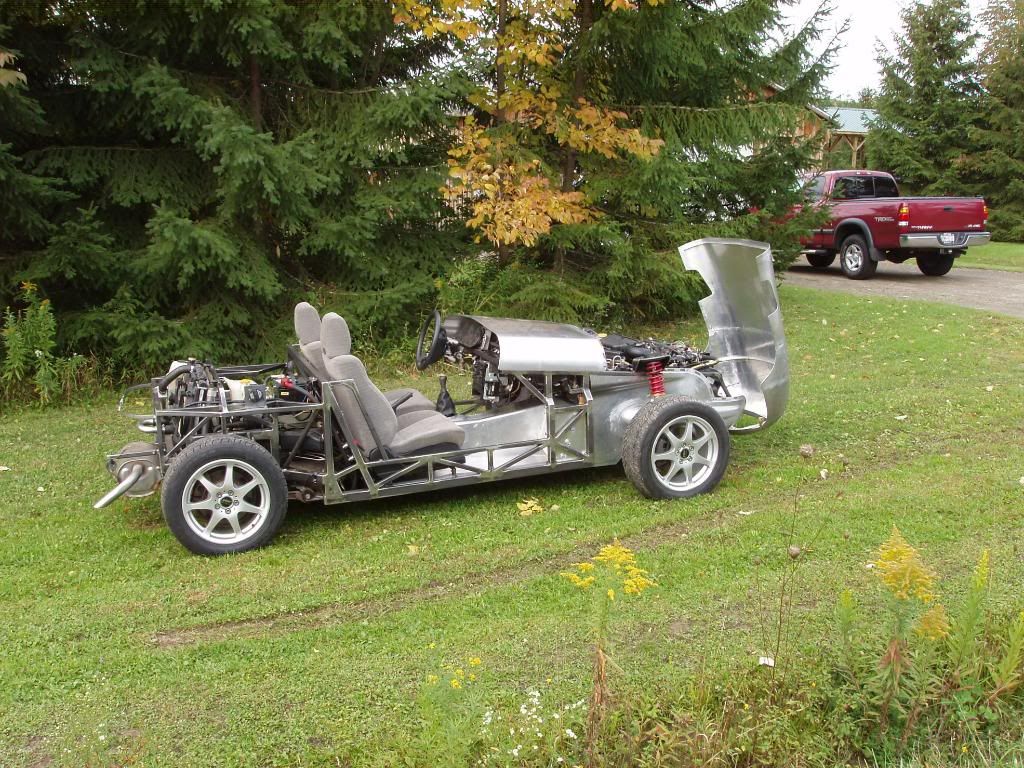 the hood taking shape.... no plans.. just build it as I go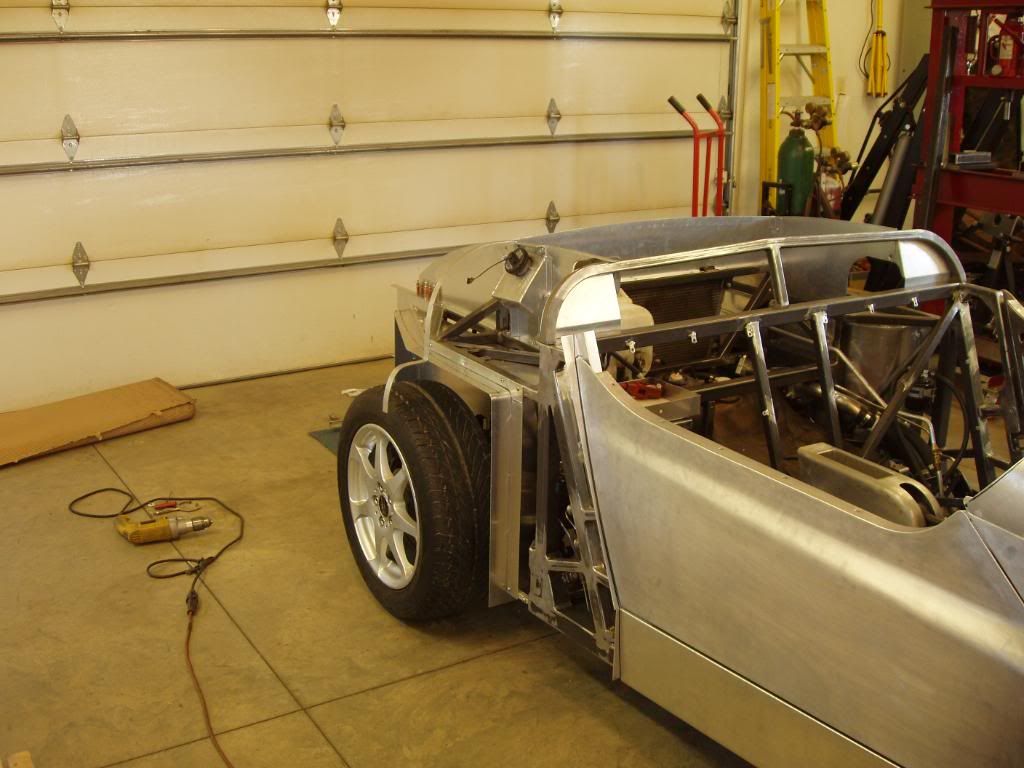 some of the body as well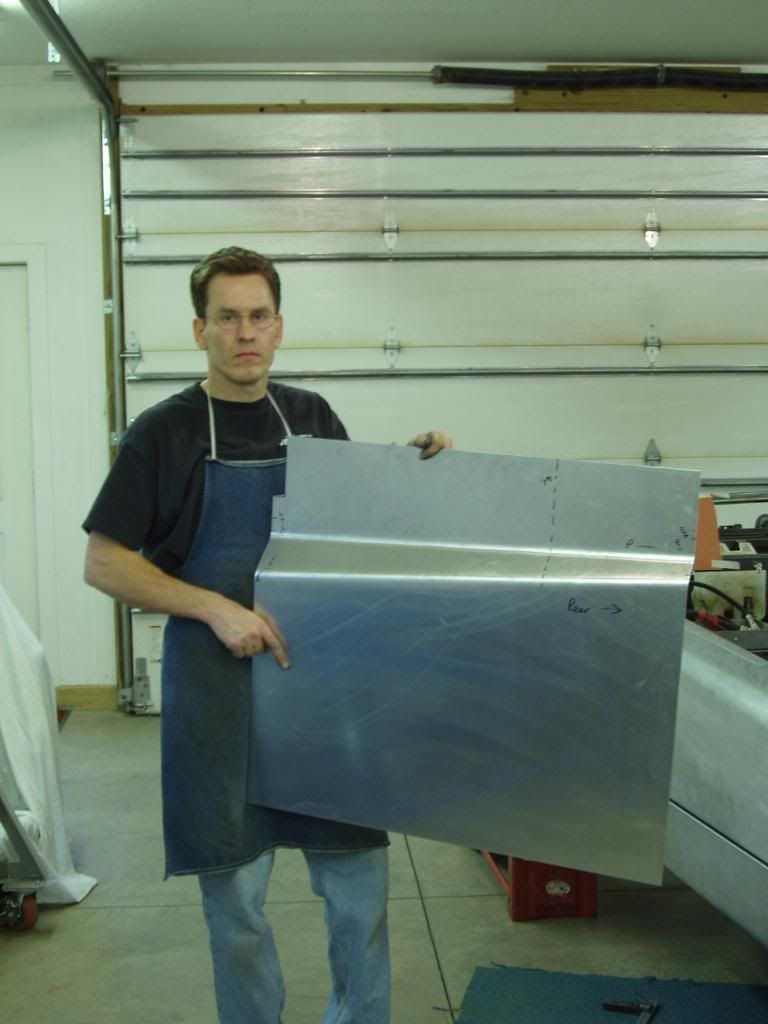 me with a future front inner fender... trying to match the lines of the doors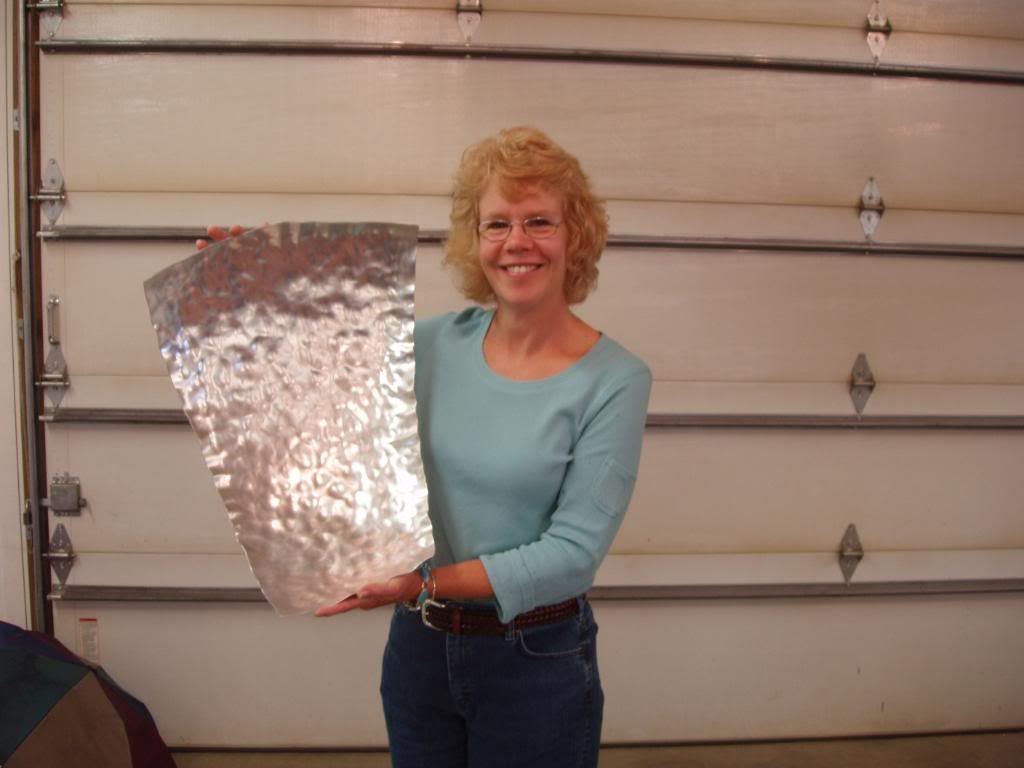 my wife with a future rear upper quarter panel
I smoothed with the english wheel... it became the triangle portion in this picture
a shot of the body coming together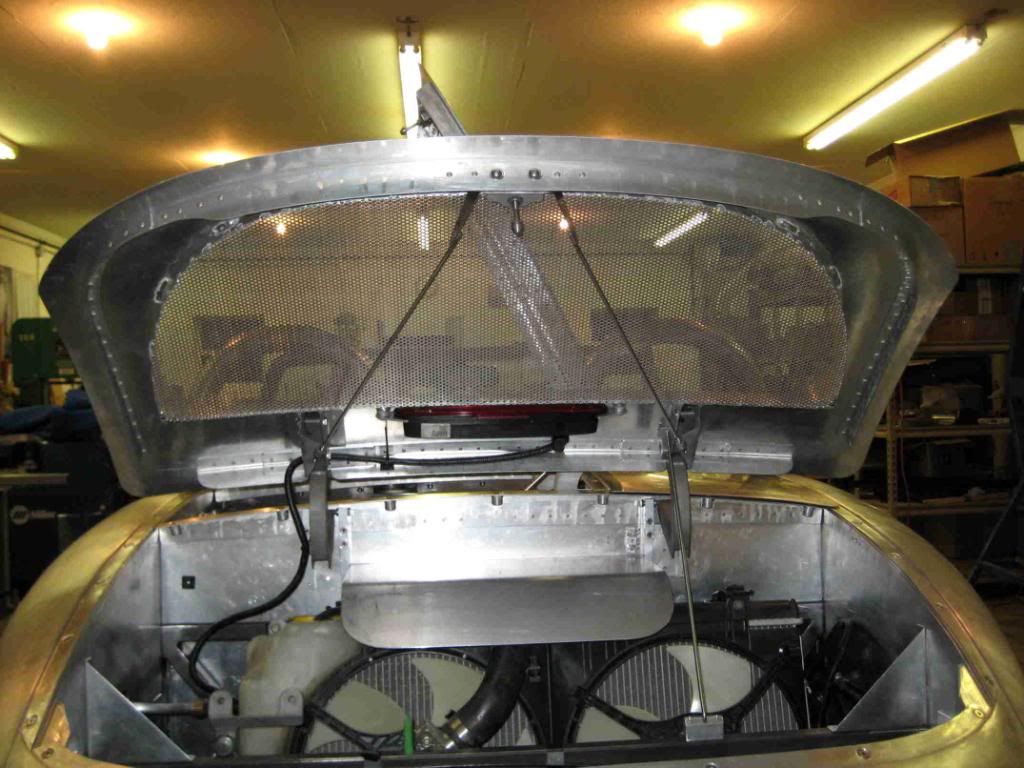 the rear deck lid is perforated aluminum in the center section for ventilation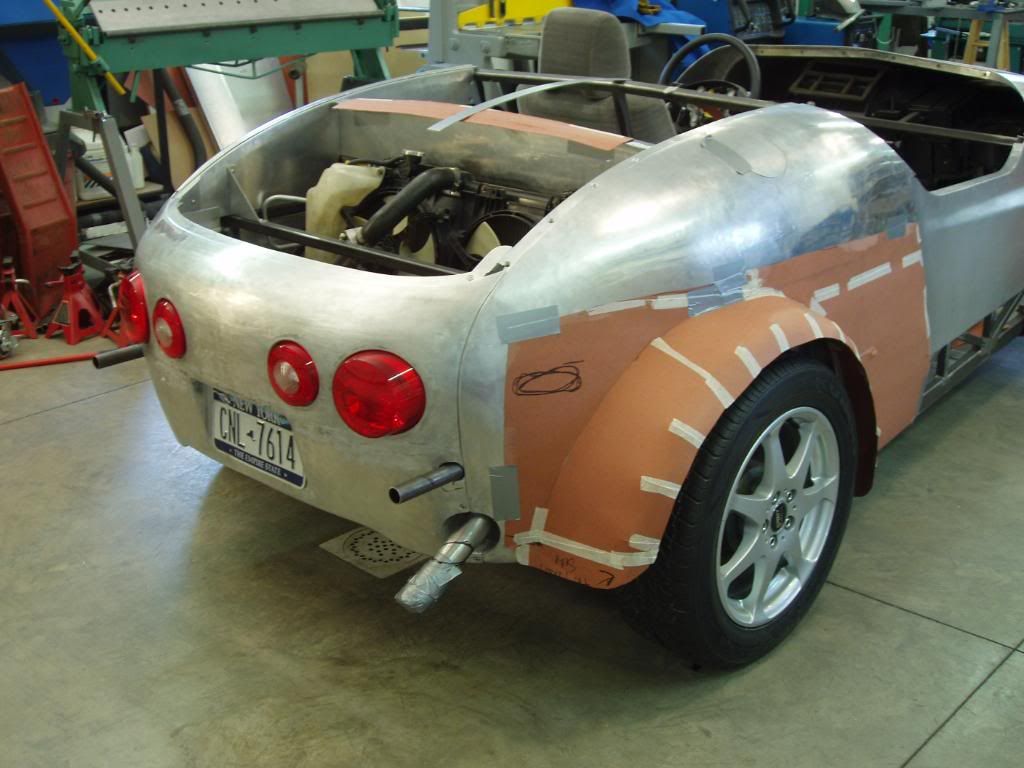 what I hope the fenders and quarter panel will look like
the front is coming along nicely.... need to cover those strut towers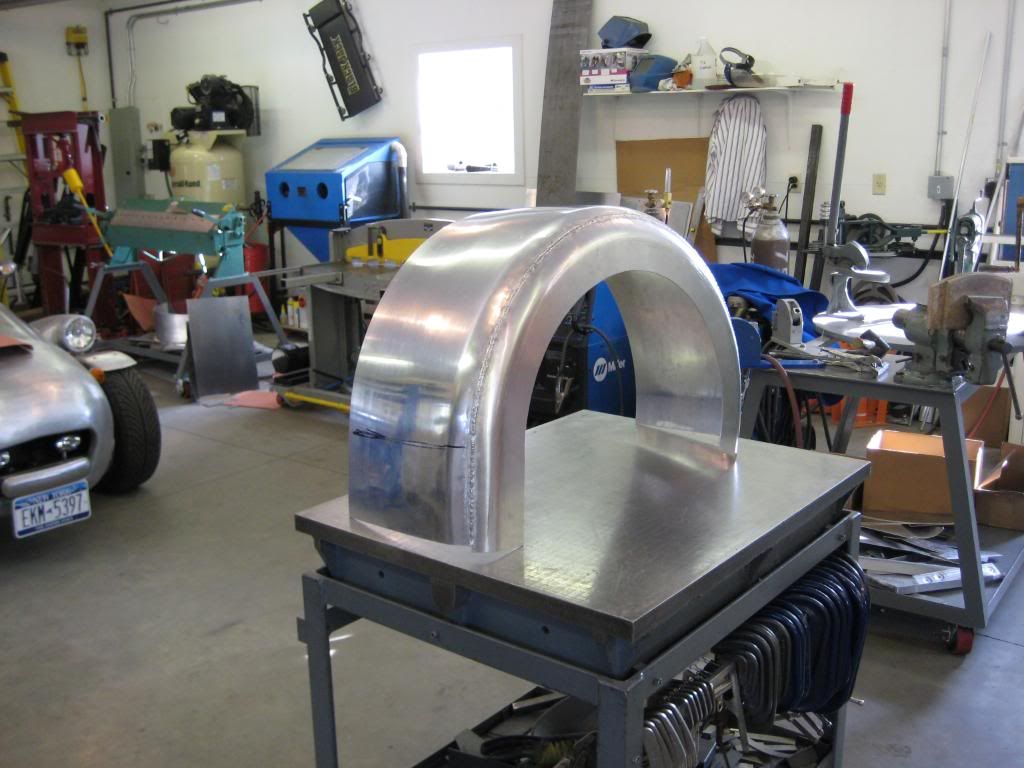 making a rear fender...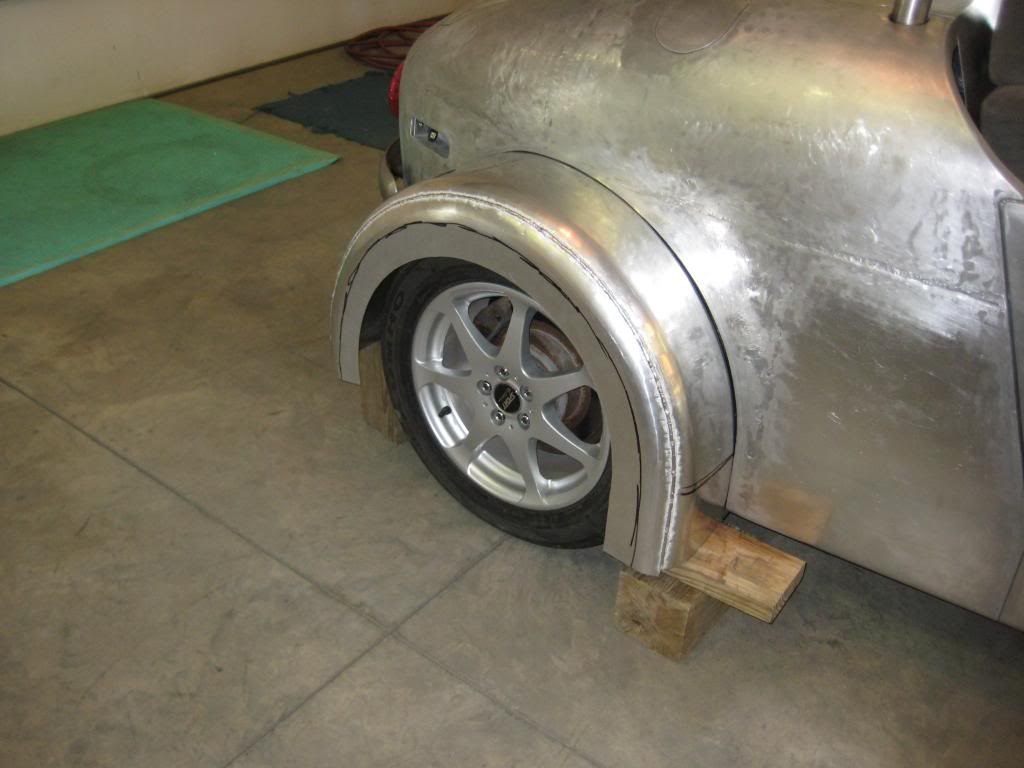 fitting it to the car
trimmed and fit... not bad!
making the windshield... it is made from .060 aluminum also, and has a solid bar running
up inside both sides for strength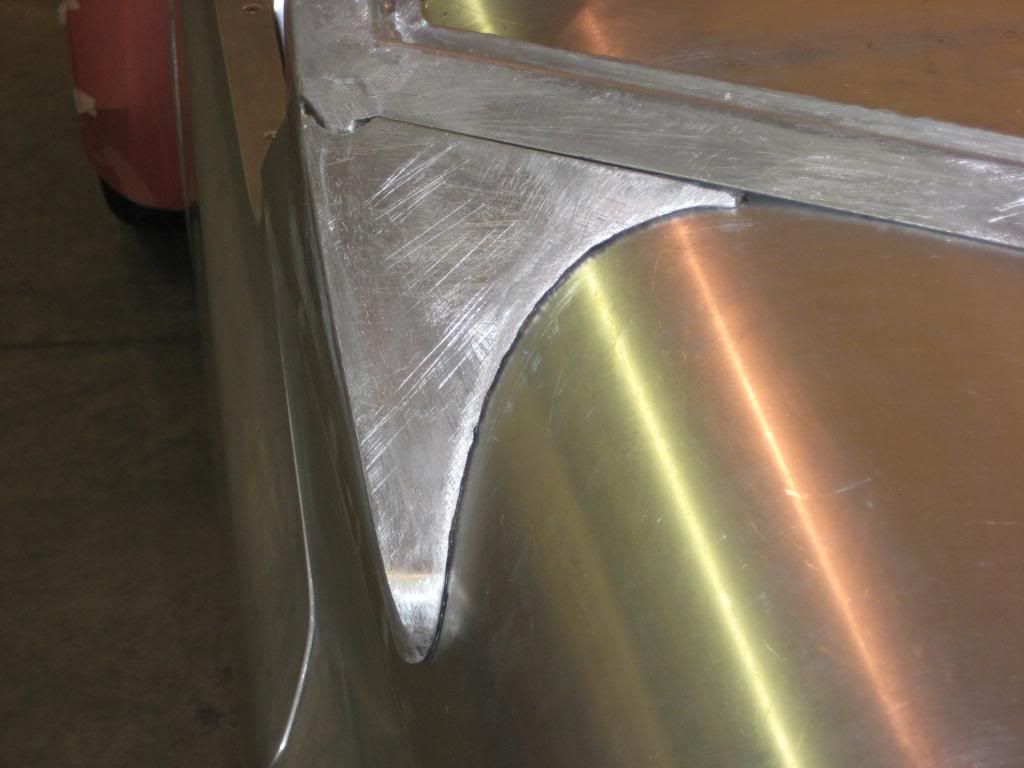 filling in the corners for looks
just needs a little style in the center of the hood, and some safety glass
the mirror will go on the side of the windshield, it's from a motorcycle
the front fender.. the small turn signal is from a motorcycle too..I managed to
hide those ugly strut towers under the headlite buckets
the dash is made from aluminum as well, but will be padded and upholstered
the roll bars were made from prebent thick wall stainless tubing, and welded together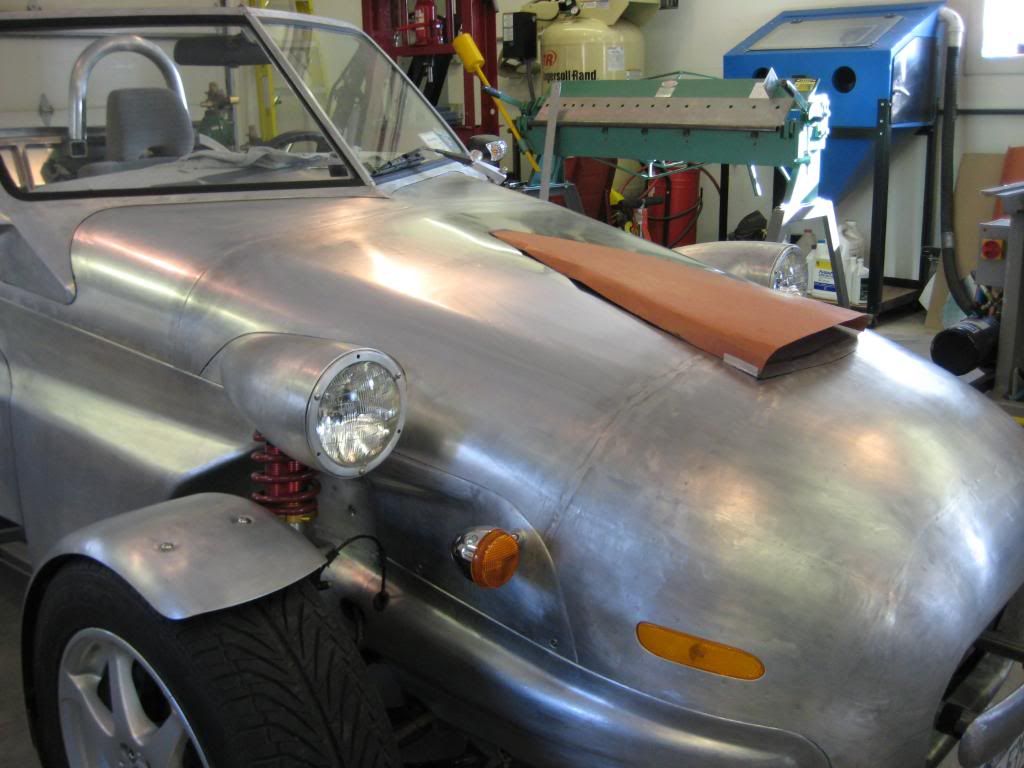 I think it needs a scoop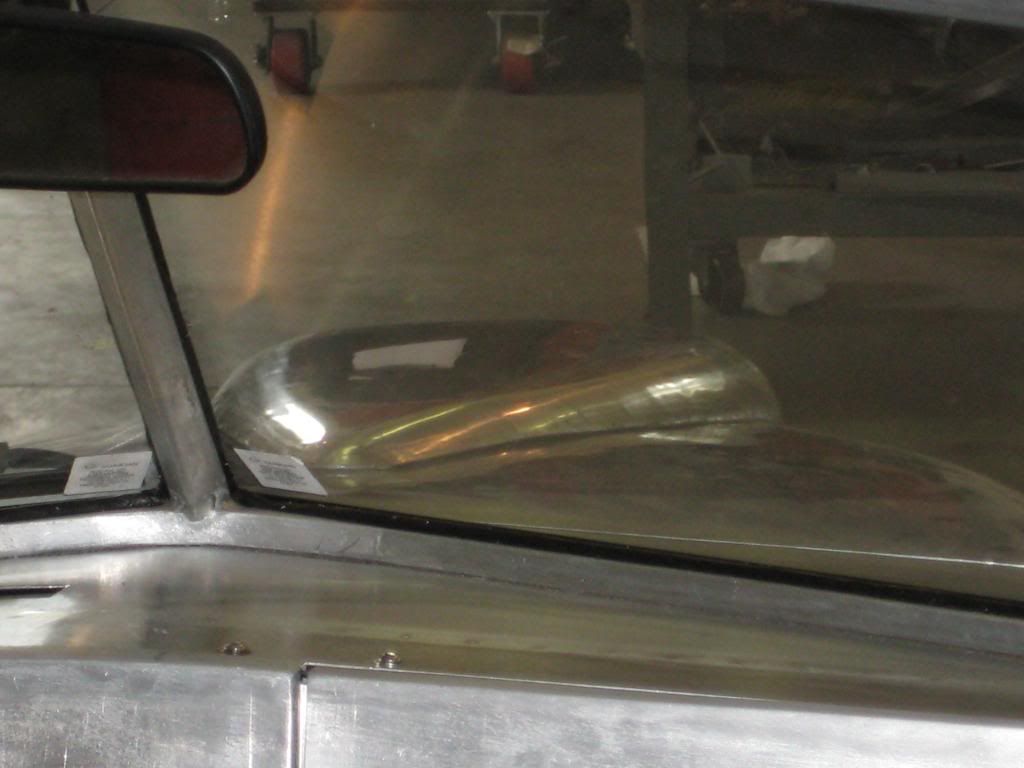 this shape looks good
I added a rounded edge
and added a flange so I could rivet it to the hood.. welding would really bow it
riveting
the hood tilts forward
I made this from stainless and polished it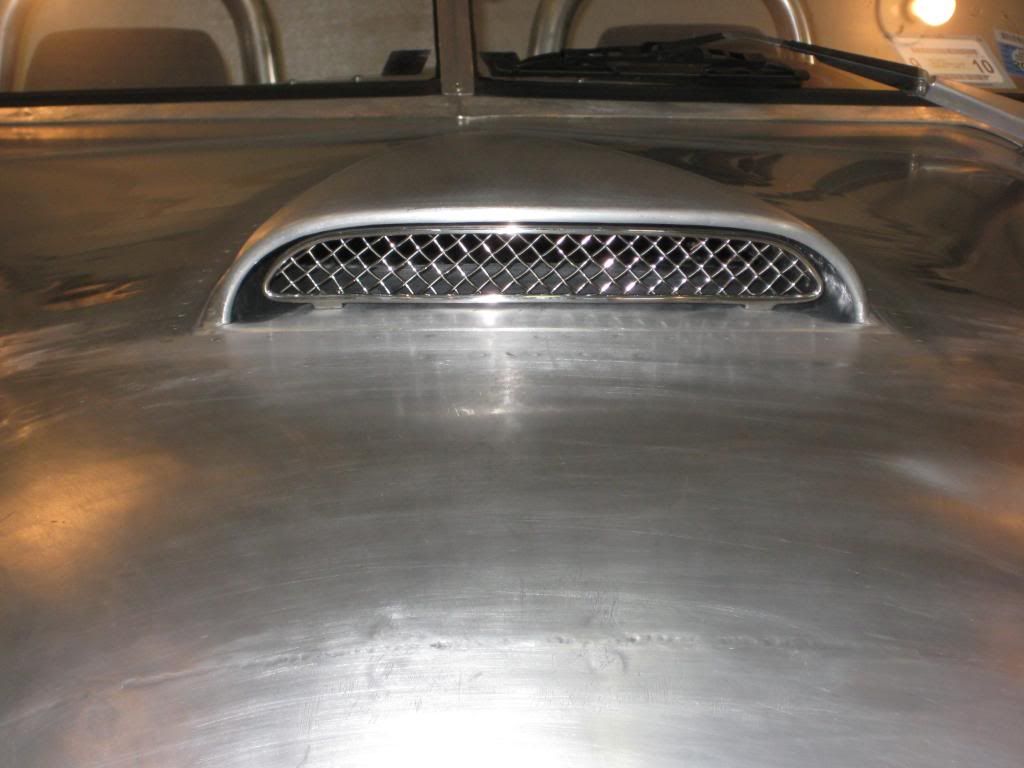 it will go in here... I made one to go in the front grill also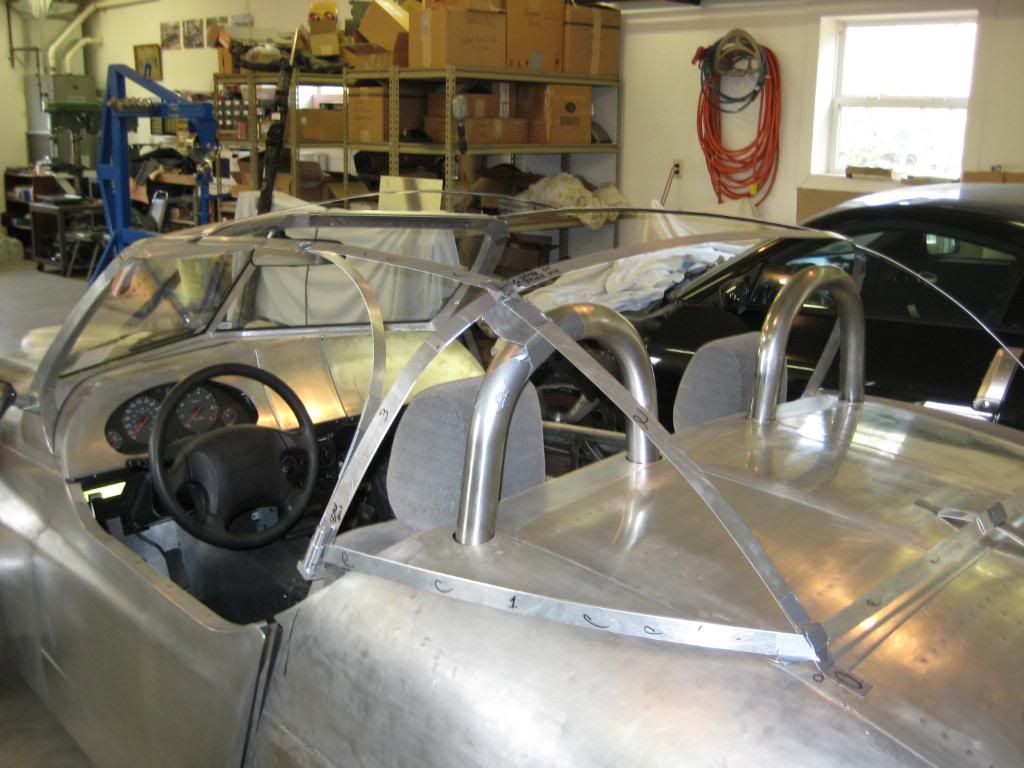 I want a top for bad weather
so I started this tube frame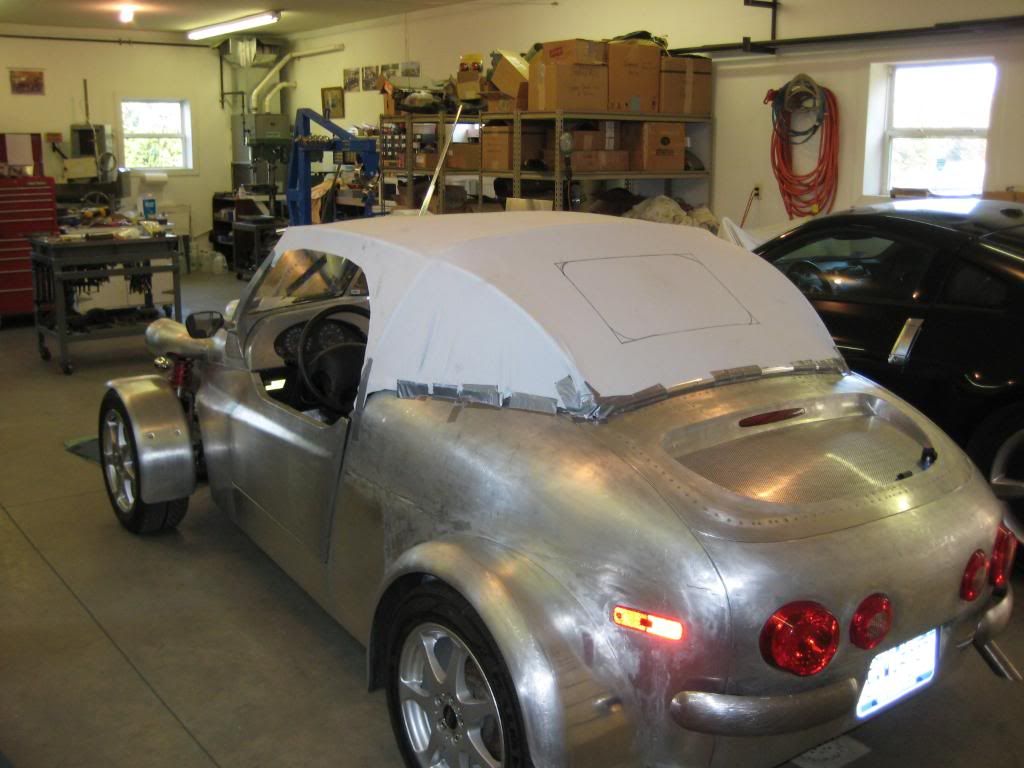 It should look something like this
this is as far as I got before my son got me going on his 240SX project
that is the 350Z donor car in the background..I should be back on this project this summer
I'm interested in ideas for a paint scheme
Thanks for checking it out