Hi all,
Thought I'd start a new thread for this now that I've got this working. I've got Bluetooth audio streaming working perfectly with my 2008 EX35.
Had to jump through a few hoops to do it, but now it works with full steering wheel controls and dash display. I got it working with the Viseoo Tune2Air WMA1000 Bluetooth adapter, and two 30 pin adapters. It works perfectly with Apple devices. Since the Tune2Air only works with the Apple airplay interface, android devices do work, but playlists, and song metadata does not display on the screen. Maybe someday the Tune2Air people will add the Android device display capabilities correctly. No big deal, as for me until they do I can use the Android display itself to display the song information.
For Bluetooth pairing, there are two connections from the phone. One as a phone connection to the MY-CAR interface, one as a media connection to the Tune2Air. Incoming calls are handled perfectly with audio pausing, then resuming after the call ends.
Basically the three pieces you need to pull this off is:
1. The Tune2Air WMA1000:
http://www.viseeo.com/ugC_ShowroomItem_ ... dShowID=15
. Its available at Amazon at
http://www.amazon.com/s/ref=nb_sb_ss_i_ ... k%3Aviseoo
2. The CableJive dockStubz+ Charge converter and 30 pin pass through that injects the 5 volts needed by the WMA1000 into the cable (you'll also need a standard micro usb car charger any should do fine). The CableJive is at Amazon at
http://www.amazon.com/gp/product/B003TJ ... UTF8&psc=1
3. The Scosche IFWAHBK home dock pass port charging adapter from Amazon at
http://www.amazon.com/gp/product/B001NX ... UTF8&psc=1
All this stuff allows the proper voltage injection and pin passthrough to the Infiniti IPOD adapter cable. Connect as follows:
IPOD Cable -> CableJive dockStubz -> Scosche -> WMA1000
All this fits easily in the center console, here's a picture: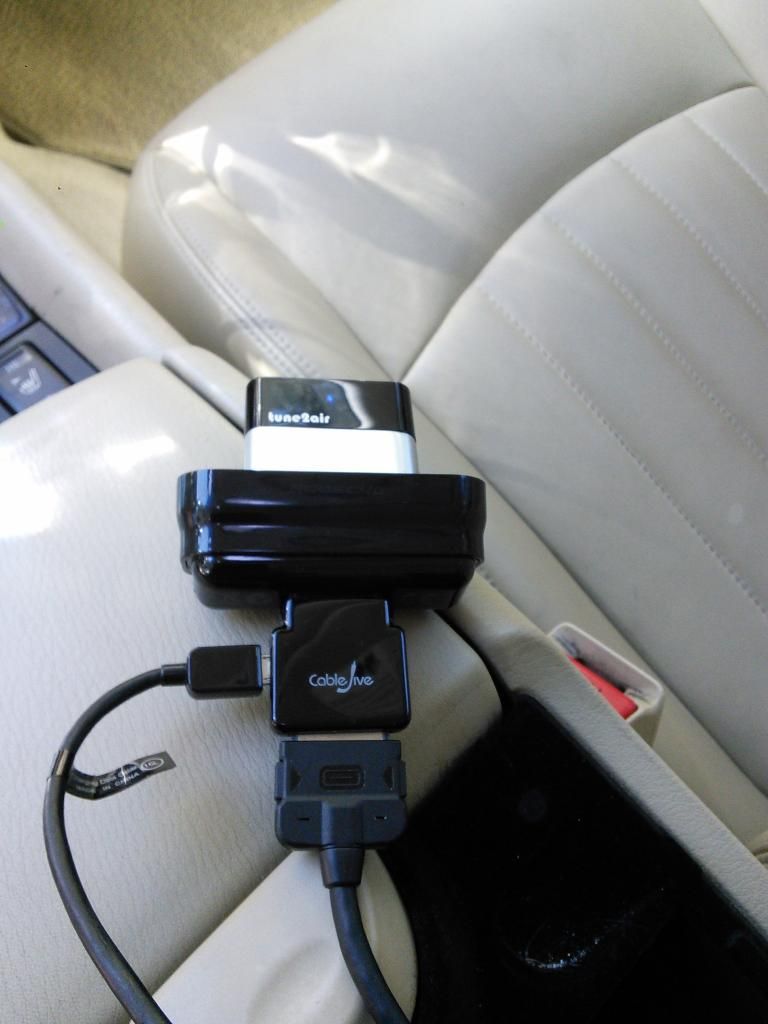 Here is picture of the display using an Android phone (I don't have an Iphone available, but assure you that it worked well):
Here's my overall setup: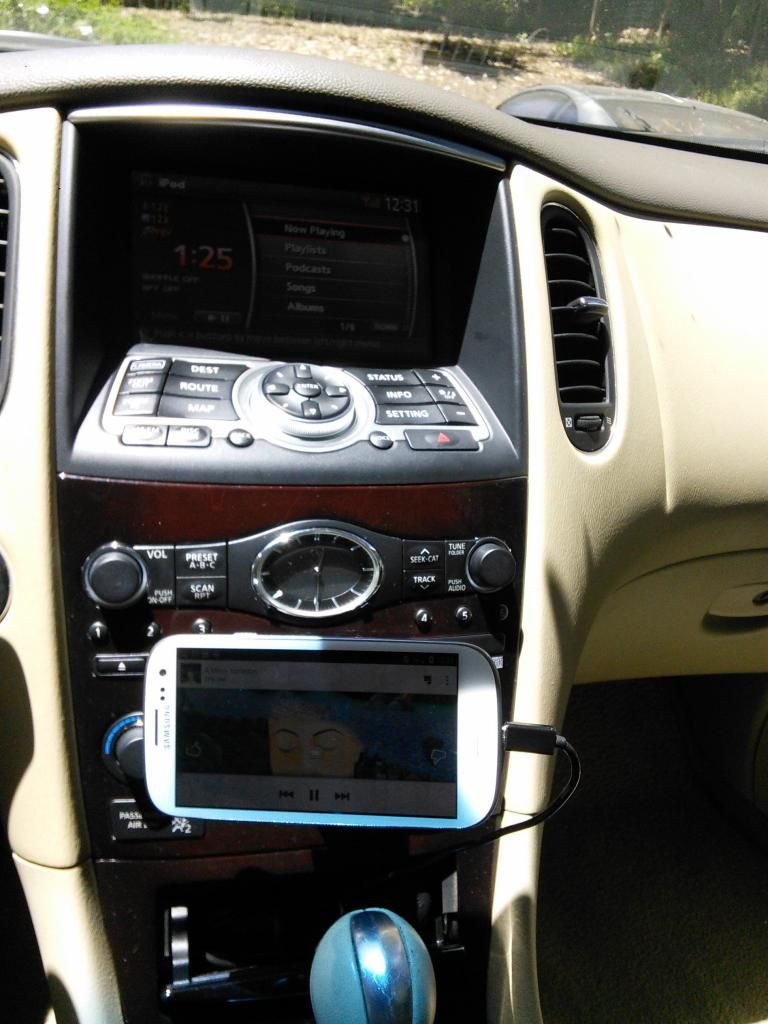 Hope this helps someone. I'm begging the Viseoo people to get the Android metadata fixed, but it is clear that Apple is their priority. Keeping fingers crossed and maybe if enough of us request it they'll make it happen.