I've done this for forums for previous cars I've owned and I know it came in extremely handy for fellow members in the past, so here's my chart for the 2008 Nissan Rogue--moderators, please feel free to sticky this.
Click for larger version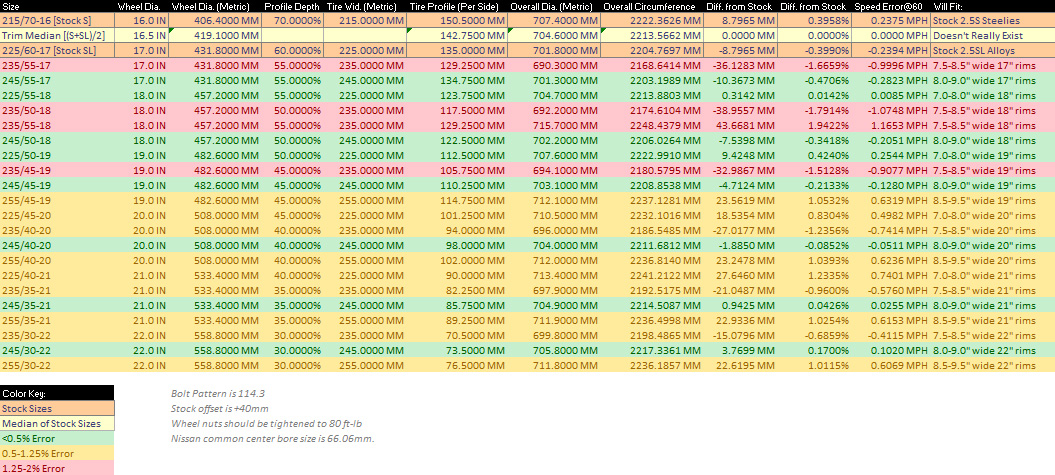 Additionally, if there's a size I did not mention that you wish to try out, or if you are wondering about the math behind this chart, please feel free to download a copy of the spreadsheet for yourself and play around by right-clicking here, and saving to disk. If you are new to concepts like bolt pattern, offset etc., I highly recommend reading up on this.
-Ed
EDIT: PS--I did not get final verification yet on the center bore size for this car, but judging by this posting, it is probably safe to guess 66.06mm center bore!
EDIT on 2009/10/19: I'd like to state that this chart also applies to 2009 and 2010 Rogues...the new S with 360 Value Package, assuming Nissan is sensible, uses the same tire size as the S without 360 Value Package--but do note that I have not actually checked! If I am wrong, please let me know and I will update the table to reflect the third size.
Modified by EddNog at 9:29 PM 11/25/2007
Modified by EddNog at 11:53 PM 10/19/2009