BRM is proud to introduce a performance catback system for the 2000-2003 Nissan Maxima (A33) and the 1989-1994 Nissan Maxima (J30).
Here's our prototype system - We've sold quite a few since then. More current pics to come!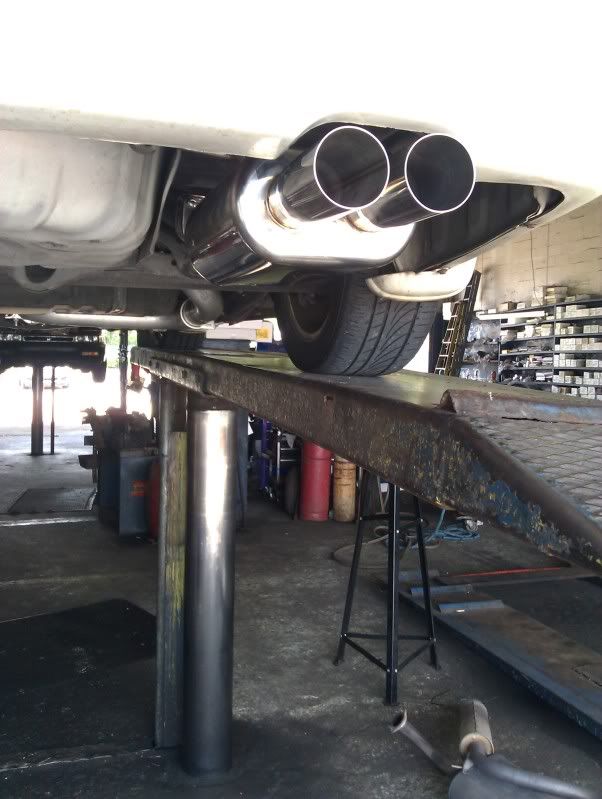 Construction
- All systems are constructed of mandrel-bent, T-304 stainless steel (or aluminized mild steel) in 3", 2.5" and 2.25" diameter. BRM's systems are not "mass-produced" and are manufactured by hand. Our fabricators have over 100 years combined experience in custom exhaust design, and we recently sold our 900th catback for the S-chassis (not to mention over 200 Sentra systems, a bunch of Versa catbacks, and an assortment of other cars we build stuff for!).
MIG welding is used for most welds, some TIG welding is utilized. Welds are cleaned up afterwards for a nicer, finished appearance.
Flanges are 3/8" billet pieces, whereas the competition uses thin, flimsy STAMPED STEEL flanges.
Muffler, resonator, catalytic converter, and tips are ALL Magnaflow units. We've found their stuff to be the best-suited to these applications.
Sound
- BRM catbacks are designed for a non-ricey, throaty sound. Deep rumble at idle, and an aggressive, deep tone throughout the RPM range. Can't say much more here, except for NO RICE.
Appearance
- BRM believes in maintaining a stock fitment and appearance, and as such, the flashiest thing you'll see is the chrome tips. No weird, unnecessary angled canisters or anything like that. Just clean, timeless style.
Tips
- All systems are available with either a 4" single chrome tip or dual 2.5" beveled chrome tips (add $30).
Resonator
- A resonator can be added to any system for $70. A 14", 18" or 22" resonator can be selected. Longer resonator = deeper tone. NOTE: 3" systems are ONLY available with the 14" resonator.
Fitment
- Our system bolts up to the factory cat flanges and uses the factory hangars.
Catalytic Converter
- A high-flow cat can be added to any system for $135, and can be purchased separately for $155. Keep in mind, this will have to be welded in after installation (to ensure proper alignment and such), but it's still a hell of a deal.
Pricing
- (with resonator, dual tips, all hardware, and shipping INCLUDED) is as follows:
3.0" aluminized $535, stainless $635
Another photo of our prototype system: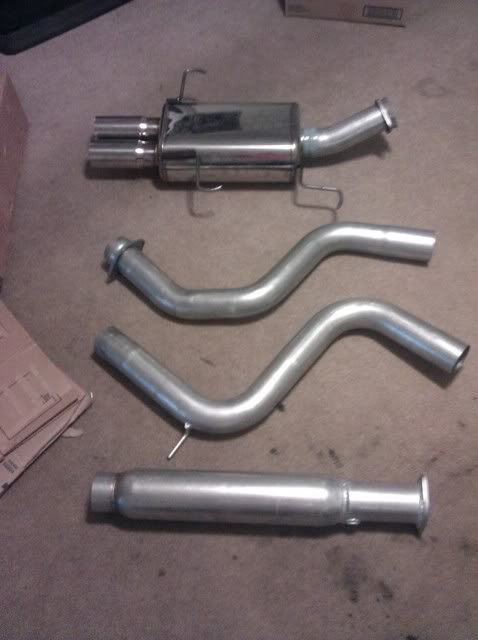 We also offer 2.25" and 2.5" diameter systems for the Maxima - Same great build quality, more resonator choices available, and even more affordable than the 3" system.
Shipping to Canada? Of course we ship to Canada! Add $35.
Turnaround time (for delivery in the US) is roughly 8 days. Sometimes we're faster!
One last prototype pic!
Aluminized or Stainless
- Which to choose? - Aluminized (not aluminum) tubing is a coated mild steel. It's basically what most auto manufacturers use for OEM systems. Not as resistant to corrosion and weighs a tiny bit more. Performance is identical.
Aluminized steel is great if you live in an arid climate and don't really worry about rust. If you live in an area with a lot of snow, rain, or near the ocean, stainless is a smarter choice. Stainless will not corrode and is guaranteed for as long as you own the car.
Contact and ordering
-
http://www.brmexhaust.com
.
FREQUENTLY ASKED QUESTIONS:
What is a resonator, and do I need one?
A resonator is critical for a street-driven car. Here are some basic, layman's terms explanations:
There are 3 common ways to reduce sound in an exh system: Resonator (reflected waves), muffler (wave absorbtion and reflection) and silencer (reflected waves and restriction). BRM uses a resonator and a straight-through muffler on its systems for the S13 and S14.
Resonator
is a straight-through chamber sized larger than the inlet / outlet, sometimes with baffles or slots (think old-school cherry bombs). Tuned properly (through placement, diameter, length, shape and location) it will actually cancel out certain frequencies as the sound waves collide, yet does not impede flow.
Muffler
is a chamber with internal walls (think of a maze) that the gasses travel through. As the waves pass through, they are disrupted and "chopped up" and the sound is absorbed by the surrounding packing (think of an insulated room). Can be restrictive depending on design - if it's a straight-through design, it will not impact flow and actually makes very little impact on the sound (primarily "fine tunes" the exhaust note).
Silencer
is a conical obstruction placed in the exhaust system which reflects sound waves back against themselves, cancelling certain frequencies, much like a resonator. But it also works by restricting the amount of flow, thereby reducing sound levels. May as well shove a potato in your tailpipe and bore a small hole in it.
Keep in mind, all systems are built TO ORDER. We don't maintain an inventory, so we're able to offer you lower prices. No silly "group buy" requirements. You want it? You GET IT.

Our turnaround is QUICK, and our warranty FAR exceeds that of any other companies making a Maxima catback. No hassles, no silly limits - A lifetime warranty on workmanship and components. Beat THAT.