I've been working on this project pretty consistently since late spring, but have not really gotten around to posting anything about it on Nico. If you're friends with me on facebook, you're kept up to date pretty well on my progress. For the rest of you, it will come in installments whenever I feel motivated enough to upload pictures to photobucket and come post.
First, some relevant back story...
Last January (2012) I bought an S13 hatch with an S14 SR swap and a bunch of great parts like tein coilovers, a 2-way diff, cusco arms, and some other stuff. It was kind of in rough shape cosmetically, the coilovers needed a rebuild, and the engine had blown. I got a fair deal on it with every expectation that the engine would be rebuildable as it also came with a box full of stock internals to refresh the engine.
As I got into the car, it was really rough. Still not sure the coilovers are salvageable, the "2-way" was just an LSD with 5-bolt axles, and that rebuildable engine was grenaded. I just so happened to have a friend who was trying to sell his S14 SR20, so I bought it.
Still with me? It's about to start getting good...
So last fall (2012), the same friend who sold me the engine calls me up and says, "Hey I messaged you a craigslist link for a car for sale that you need to look at RIGHT NOW!" I was at work, so I got on my trusty smartphone and checked it out.
Here's a screen shot of the saved ad; and below this, a few of the pictures from the ad.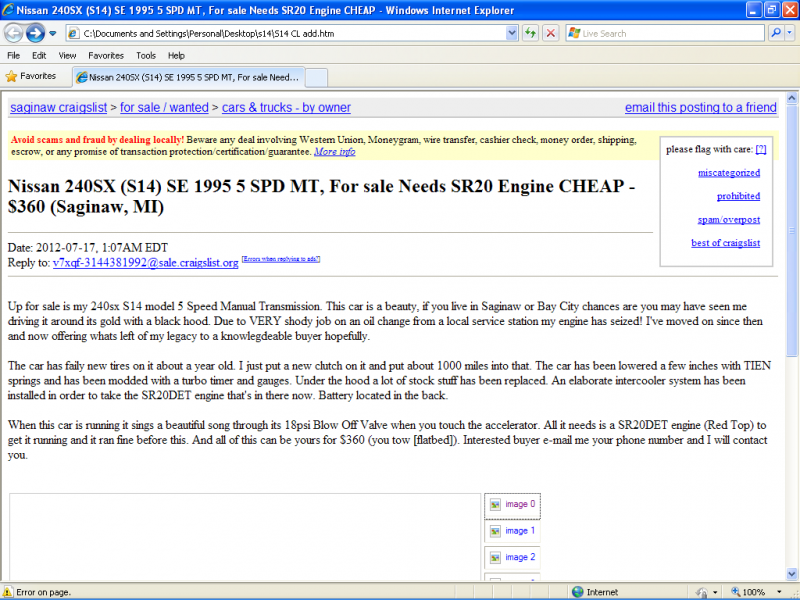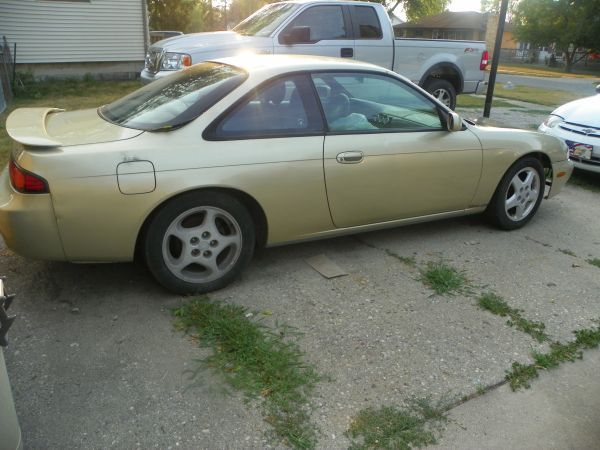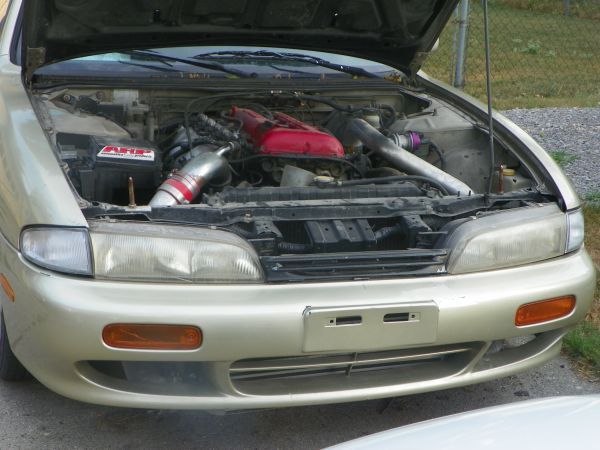 This can't be real... There's no way... No way... Even if it is... It's probably sold five times by now...
I emailed him anyway. I figured 75% of the people who had all ready messaged him were people without cash or wanting to trade, no means for towing it, and even less means of repairing this thing, and at least two hours or more away. I made sure to point that all out in my message. Three days later this guy calls me and asks me to come take a look at it!
Being married and all, I of course had to show my wife and run it by her. She was quite skeptical at first as was I, but I all ready have projects galore taking up space on our homestead. She agreed to come look at it with me and said if it wasn't good enough, she was going to tell me, "NO!"
Off we went. I took $500 with me and we went to go check it out. Once I got there it still seemed too good to be true. Oh, but it was true. The shell was really clean considering this is Michigan. Sure, there were some dents and scratches, but for the most part, it was rust free. The interior was 95% complete and he had a grocery bag of replacement parts. It had mismatched wheels with relatively fresh tires, newer brakes, and an S13 SR swap.
I had to ask the guy what happened to the engine and why he was selling it so cheap. Turns out, he had an oil change done and while he was driving on the highway, the filter fell off and the engine seized right up. He got a settlement from the oil change place; but instead of repairing the car, he used it to buy a more family-friendly mode of transportation as he had recently had a child. He had no way of repairing the car at that point - not enough money or skills. So he figured he would sell it for what it was worth in scrap, because that's where it was going.
My wife gave it a look over and we talked about it while the guy went inside to grab some parts and paperwork. Realizing what a deal this car was, she gladly gave me the thumbs up. I gave the guy $500 cash, removed the front mount, hooked up the tow strap and flat towed that bad boy home... for 90 minutes... in the rain... with no power... across one of the busiest roads in Saginaw... Just another adventure.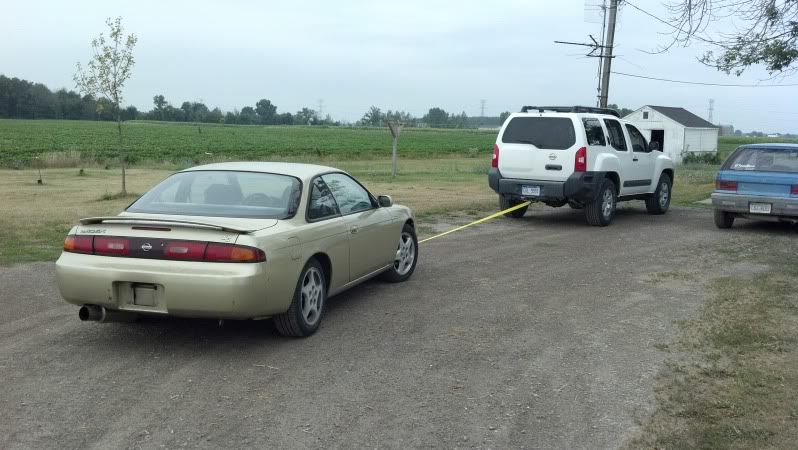 Because of my work schedule at the time, I didn't have the free time to do much of anything and the car had to sit through the winter. I did however, start buying and stocking up on parts. As winter was winding down and the snow had melted enough, I was able to get the car into the shop and the process could really begin.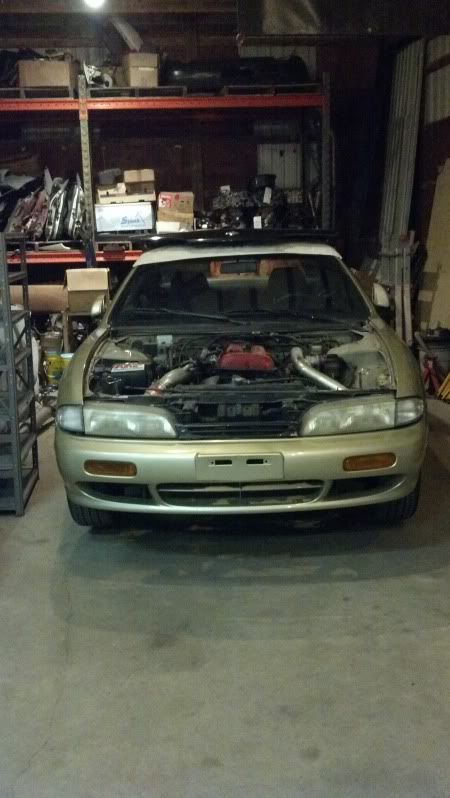 So, the plan is to put the S14 SR20DET into this S14 chassis. Sounds simple enough. Well, remember, the S14 was wired up for an S13 SR and the S14 harness I have is wired up to go into an S13 chassis. That's going to be one of the biggest challenges with this swap.
Also, what fun is a build thread without talking about a bunch of the cool parts? Some of the parts I had purchased with the intent of putting them in the S13 were now going on the S14. The S14 had some decent parts as well. From the two cars I all ready had a decent FMIC, a Greddy BOV, Tomei O2 housing, nameless down pipe and exhaust, and a full hardpipe kit including the intake elbow. I picked up a clutch kit from Tennessee Clutch and Supply after seeing a lot of great reviews on here and because I was in Nashville for a trip. Somewhere along the way, I had picked up a J30 diff with 5-bolt axles for some reason and scored a full set of Z32 calipers from a junkyard - that's all going on the S14. I put in an order to Z1 when they were having their Thanksgiving sale and bought a one-piece driveshaft, some gaskets, Z32 caliper rebuild kits, and an OEM key. I ordered Autometer gauges, Innovate wideband, oil filter relocation bracket, hoses, fittings, and an adjustable electronic fan controller from Summit. The only part I got from Mazworx was the oil filter adapter block, but I love it. Otaku Garage tipped me off to a set of really nice KW V3 coilovers that I picked up. I also bought some parts through him including, Tein top plates, manual boost controller, and a braided clutch line. From FRSport I got some more gaskets and an ATI gauge pod. I'll probably be putting in another order with them soon for some conversion lines for the Z32 calipers. I've also ordered a lot of parts from Advance Auto Parts online because they have such great deals. New thermostat, NGK spark plugs, Z32 fuel filter, Z32 brake master cylinder, gear oil, coolant, and stuff like that. Lastly (for now) I bought a bunch of braided nylon sheathing for my wiring harness from cabletiesandmore.com for a killer deal.
This is going to have to do for now. I'm burning daylight on a day off that I could spend working on the car. I'm going to toss a couple pictures in here for now to wet your appetite. I'll try to get back on tonight to finish some pictures (especially the craigslist ad) and add to the story. Thanks for reading.