The name on the back panel, just under the massive adjustable rear wing, says Nissan LEAF.
The powertrain is an 100% zero emission advanced Lithium-ion battery design, just like that found on the world's first affordable mass market electric vehicle.
And despite its lack of rear doors, rear seat, trunk, audio system, navigation, carpeting and other amenities, there is a discernable family resemblance. But that is where the similarities between the production Nissan LEAF and the Nissan LEAF NISMO RC end. As indicted by the "RC" -- for Racing Competition -- this new electric vehicle, which makes its world debut at the 2011 New York International Auto Show on April 20th, is purpose-built to bring new meaning to the term "Racing Green."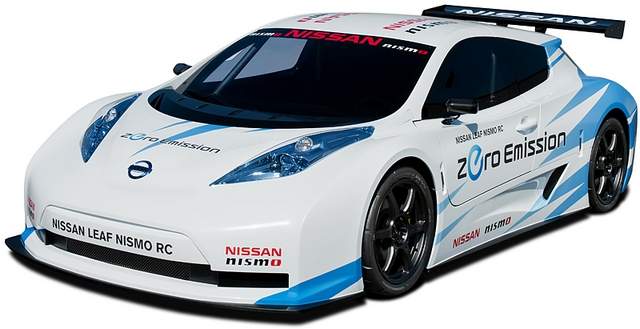 Nissan and NISMO released pictures of the Nissan Leaf race car, and plans to show the car to the public this week at the New York Auto Show.
The 2-door prototype, called the Nissan LEAF NISMO RC, was created by Nissan's Global Design Center in Japan and NISMO, Nissan's motorsports group.
The race car features a 3.9-inch shorter wheelbase and is 13.8 inches lower than the production Nissan LEAF, leaving just 2.4 inches for ground clearance. It also weighs 2,068 pounds, or about 40% less than the production vehicle.
Nissan said the NISMO RC can go from 0 to 62 m.p.h. in 6.85 seconds and has a top speed of 93 m.p.h. It is projected to have a running time of around 20 minutes under racing conditions
After the New York Auto Show, Nissan said the new electric race vehicle will likely make a series of special demonstration appearances at motorsports venues in 2011. Nissan also said it wants to explore zero emission competition races in future years.