Things I used:
22mm socket for front calipers, 12mm for front brake cable
19mm socket for rear calipers
(Don't remember the socket for the sliding pins and or rear brake cable)
Dust mask
Eye protector
Dremel set at 15k using 60grit bands
Cheapest heat gun from Home Depot
A bigger and slightly stronger paint brush (A MUST)
Time, time, time

First, I hear quite a few people saying if you can afford it pay to powder coat it. I'm a DIYer all day and live by, "if you can do it, so can I", therefor I didn't pay attention to that. Let me clearly and emphatically state if you are like me and want to do it PROPERLY, pay for powder. If you simply want to slap on a new color while they are on the car, then go ahead and do it yourself. The time it takes to jack up the car remove the calipers, prep them, prep them, prep them, prep them, prep them (you see a key theme here), paint them, dry them, put them back on, bleed the brakes...and the cost of paint and miscellaneous things you'll end up buying, it just isn't worth it! I ended up prepping my calipers twice because I didn't paint them the first time and they rusted over, so I had to sand them down a second time. This time around was easier since I took the front calipers apart and it was only surface rust, things were already 80% smooth. Buy rebuilt calipers and pay to get it powdered if you are looking for that great job....unless you have all the time in the world and love labor.
Now for all that said, I'm promoting not to do this, I love the way it turned out. Smooth, glossy, sexy. Paint glides and is forgiving; if you run into one of those situations where you go over semi dried paint during the coatings and the paint bunches up, all you have to do is ruffle the area up a little and go back over it with fresh paint...very forgiving. Lines smooth out, it's good. Only issue is it's not perfect...or maybe I'm not a great preper/painter. There are some lines that are slightly darker, it kind of looks cool, but I wanted an exact smooth match to the body. I believe if there was a primer I wouldn't have gotten this issue.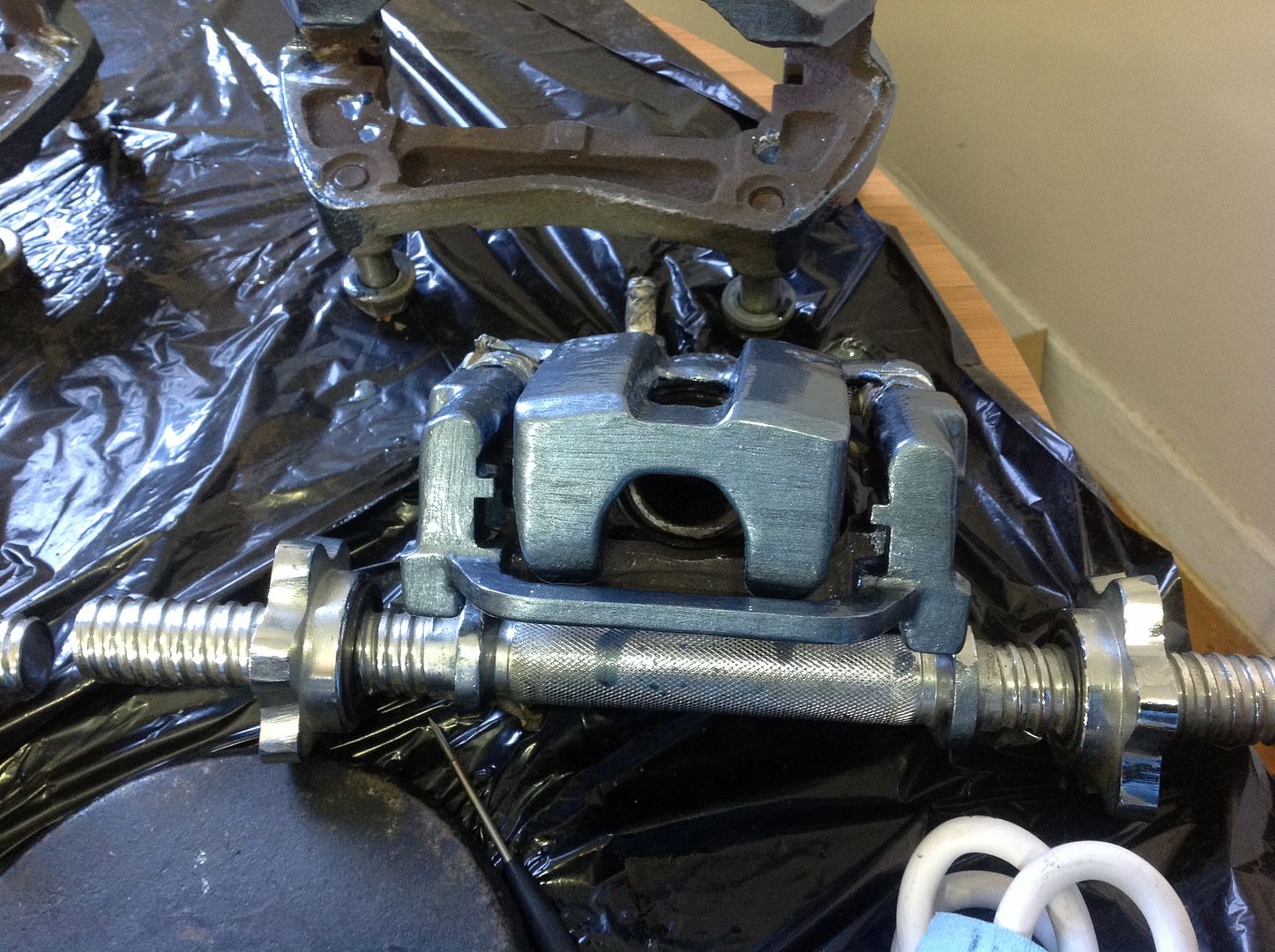 If you think of a smooth looking single color fish that has random slightly darker tone streaks of color running through it that perfectly blends and contrasts the main color and glistens just as the main color that's the way this looks. Some visual huh lol.
They say it can give you 3-5 coats. In actuality what they send it can easily give you seven coats, I did 5, it started looking great and pretty much finished to me at 4. So if you gave your calipers 3 coats and were inclined, you could coat the portion of rotors that people usually paint. It doesn't look like it, but the way it glides, it is a lot. I ended up having a good amount left over and throwing it out because of its life span. The instructions say 4-6 hour life. I kid you not, and don't let anyone tell you different, I got 9 hours out of my can of paint. I painted by an AC set to 60 that I turned on every 25 min or so and ran it for 15 min for the first 3 hours. If you paint it on your car outside, that's probably your 4-6 hr life. My only huge issue with the paint is I had them make my paint custom for my car so it cost me $100, there is no such thing as touch up paint with G2. I scratched one a little, and there is a spot I should have painted that I didn't on all of the calipers that I thought doesn't show, but it does slightly. It's not too bad, since it's small and at the back end in the dark, I can probably get a light blue paint and touch it a little. Also, their customer service is awful in that they NEVER pick up the phone.
Process. I dremelled the front calipers with 60 grit. I used roughly 30 dremel bands. 30k rpm would get the process done quick, but was disintegrating the bands, so I mostly used 15k rpm on the dremel. Once I finished that I used 2 cans of brake dust remover. They send one...you need two. Once I finished painting I used a heat gun to expedite the drying process.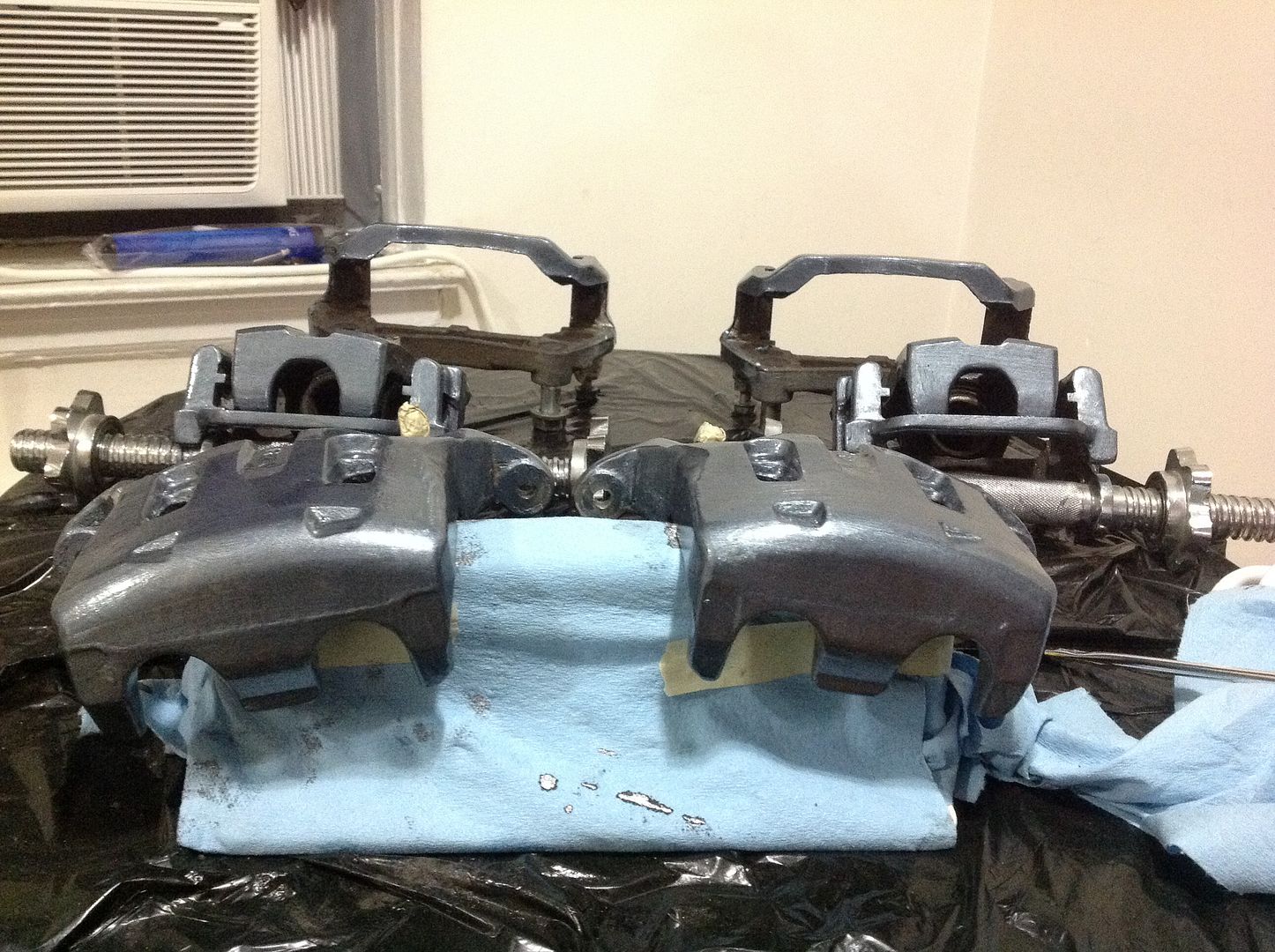 My dry time was cut in half. I would have put them in the oven, but I didn't want to replace the rubbers in the pistons (which I think I'm going to do anyway now smh). Once all of that was done, I put them on and put the decals on. PS, like the new rims?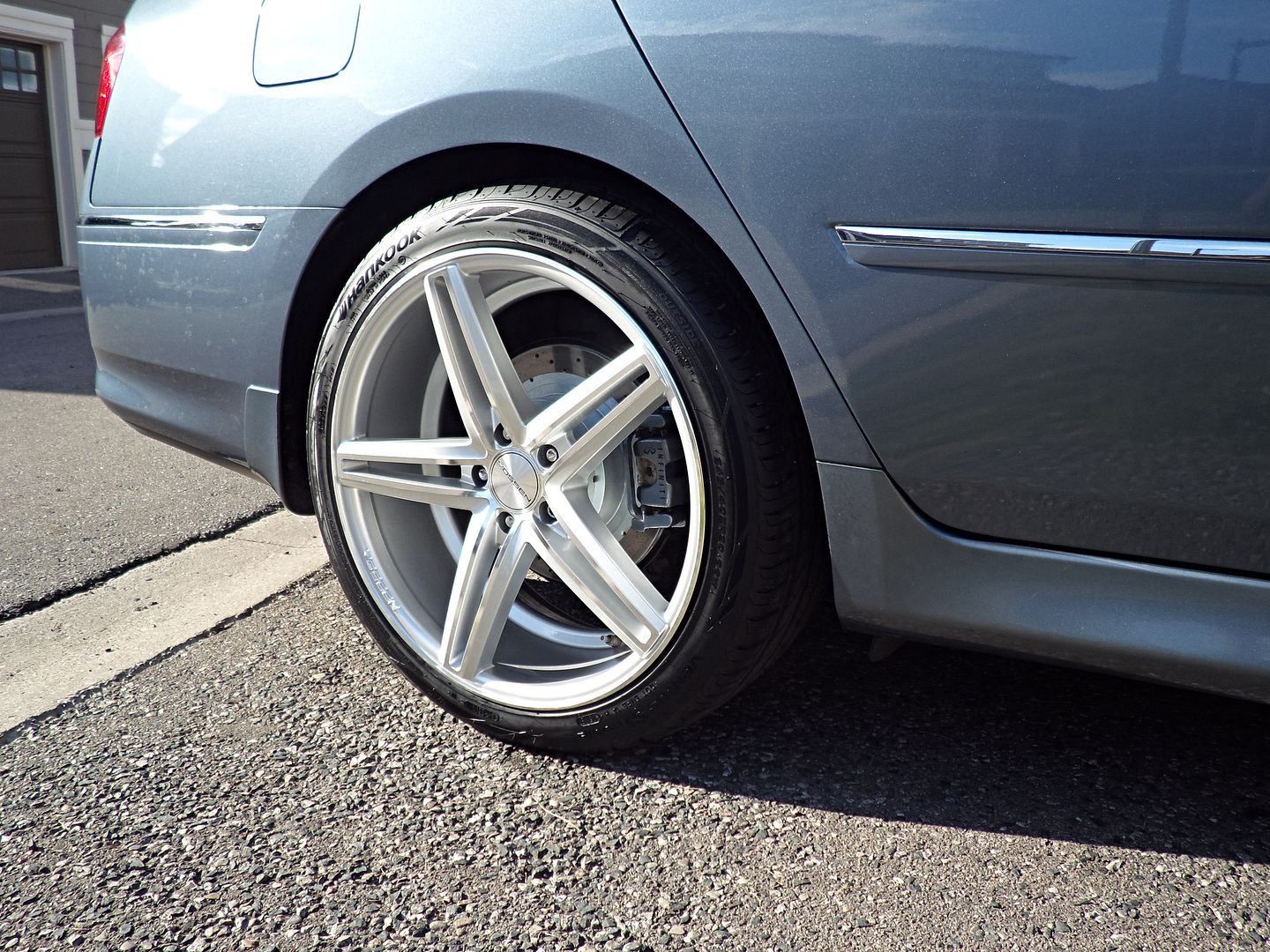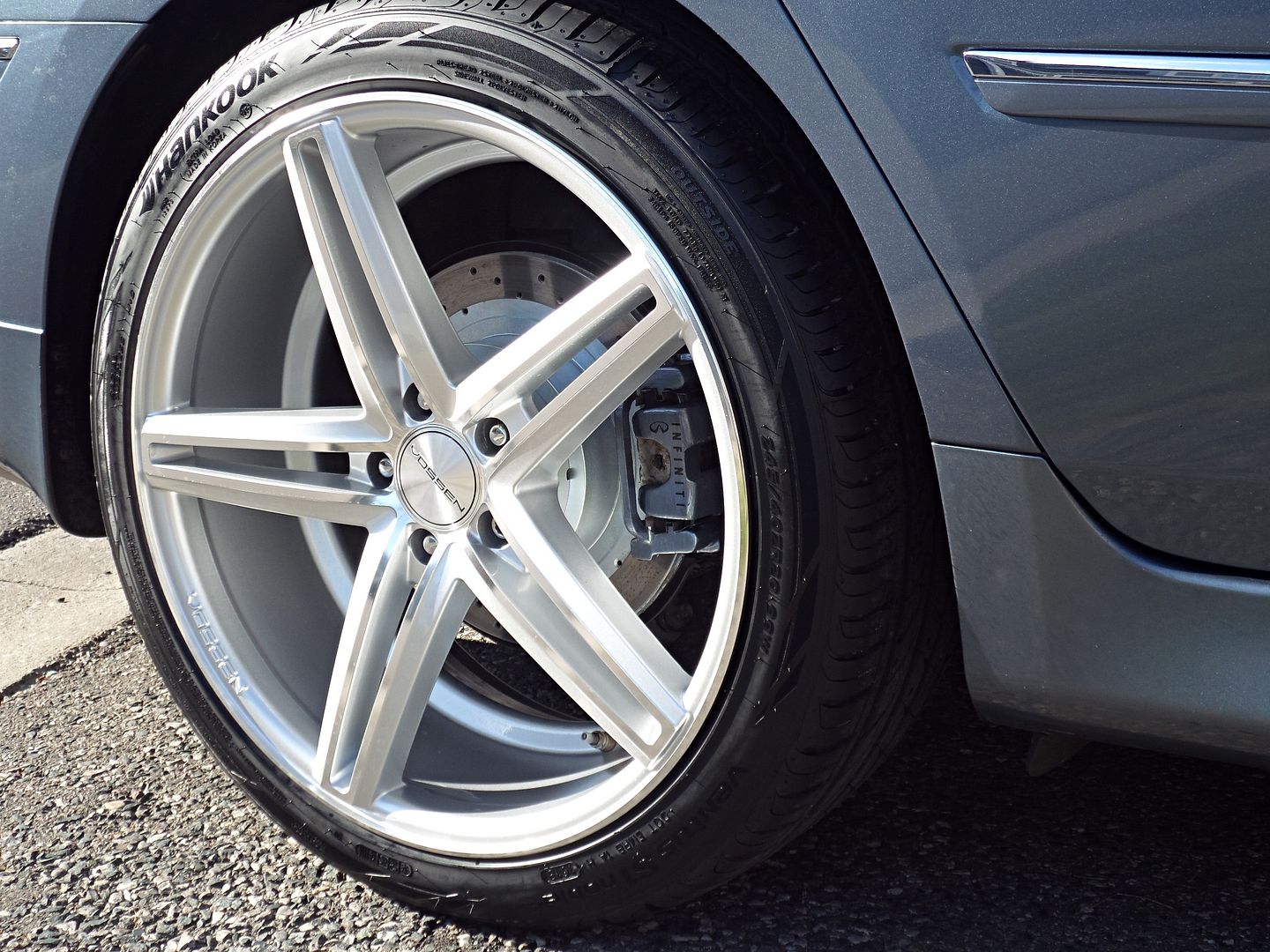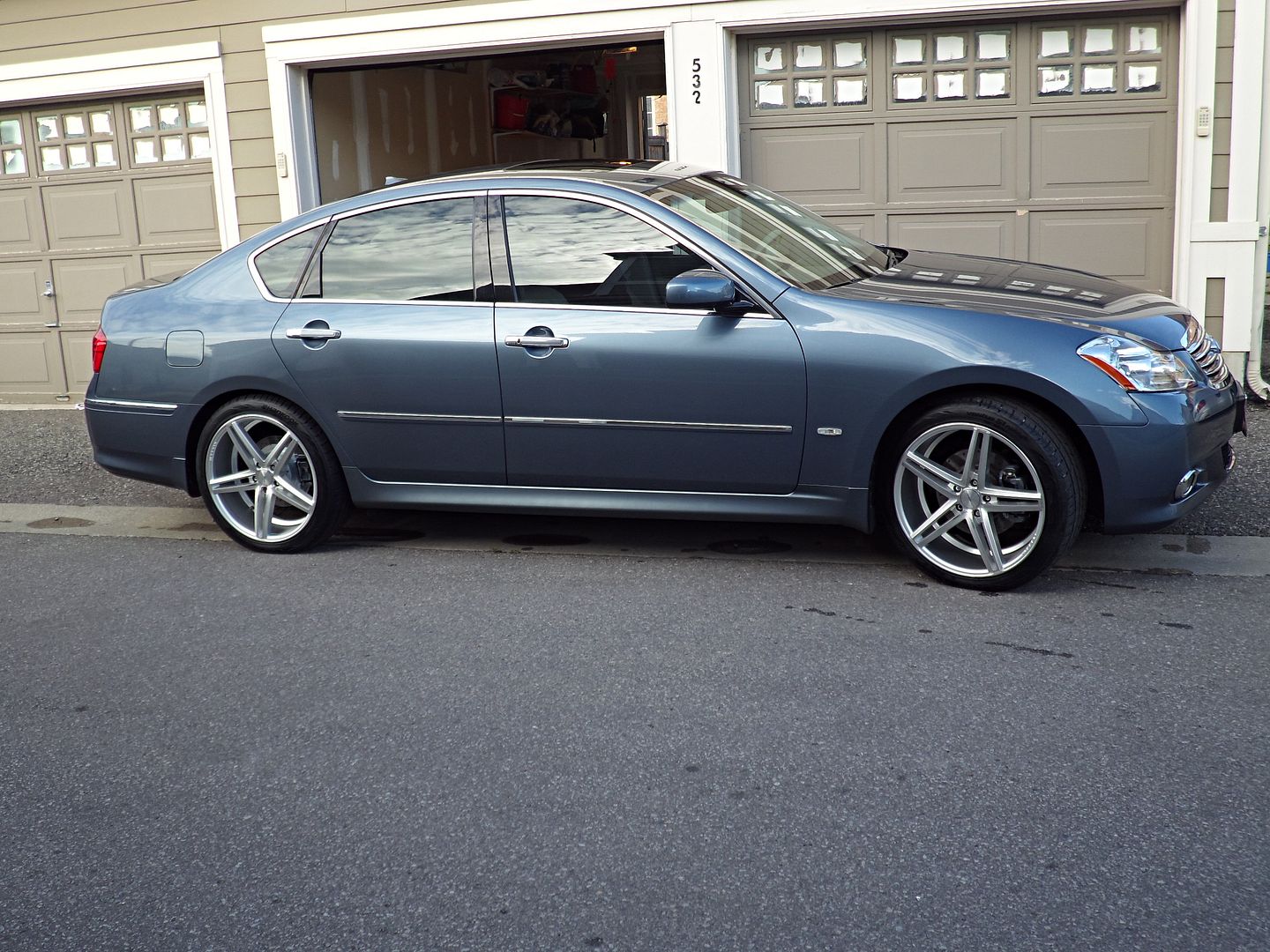 Should be dropping it when I drive back to NY.