Ok, so I finally have time to do this write up about my sound upgrade. I have to say, car audio was a journey I never expected and never want to experience again. I owned a recording studio, and have built studios for other people, and can say without a question car audio installation is a hell of a lot more annoying and tedious even though it is way less components. Pretty much because you have to adjust and work with your environment instead of being able to control your environment.
It's no secret that I think (know

) the bose system in this car is $#!T, but ill just stick with the facts of what I did and my findings.
Alpine pdx-v9 5ch amp.
What I needed above all was a small form factor amp that delivered considerably more power than its size would normally allow and not get hot...while still providing clean power. This amp allows me to keep everything hidden and provide more than enough power to my system. Here is the thing I love about this amp, on the really hot days when you want to blast your system while you are washing your car for an extended amount of time and your trunk is getting hot, this amp won't clip or shut down. It starts to slowly turn down the volume/power automatically to a manageable level to reduce the heat being generated, and then once it is clear, it turns the volume/power back up. The sound is crisp, especially the power delivered to the sub. On point and very responsive.
Rockford fosgate 360.3
This IS the crown jewel of my setup. This is a parametric 248 band eq that allows me to manipulate the eq curve of each individual speaker vs the eq of the whole set up or front and back. Why? Every speaker will sound different between different cars based on space, material, placement. Plus I can control the eq and delay through my carputer. Whats delay? If you turn your music down low and have a song that has a quick solid base hit, you'll notice the audio coming from the sub is delayed due to where its placed in reference to the other speakers. Also cutoffs and shelves to me are not very good with most crossovers. With this I am able to make brick wall freq cutoffs and shelves to carve out specific freq I want specific speakers to play more. Four eq presets, and quick source change. Plus Bluetooth to my phone or portable MP3 player. I took the optical out of the carputer and fed this directly for a nice crisp digital quality audio.
I went through a couple sets of speakers and subs. A lot of people who do this upgrade tend to go with the infinity kappa. I heard them, they are all right but I just wasn't all that impressed. They were slightly better than the Polk audio IMO.
Round 1 system.
Focal 165 A1 Component: front stage
GREAT speakers, especially the tweeter. They are astoundingly great sounding. I listened to the high end version of focal, and although better sounding (slightly in my opinion) they don't justify the price difference on the higher freq. They sound better on the bottom end, but I cut that end out on my front stage so it didn't matter. Some may say its harsh, that may be if you just throw them in without setting them up. I say it's perfect if you know how to tune your system and balance the frequencies. They made sounds and tones stand out that I never heard in the car before. They sounded brilliant in and out of the car. The only problem with them, due to the specific concave design of the tweeters, they have poor off axis frequency response. If you keep your head in one spot and tune the system based off that position, you'll live in a dream, or if you build the tweeters into the pillars and set them on a proper axis pointing towards you, they'll be great. The woofer has a great smooth tone (the way i tuned my system i cant really go more in depth with this, which ill explain later). I ended up blowing the tweeters because I was pushing them more than they could handle. The place where I bought them was nice enough to replace them for $20 even though it was my fault. I would rate them an 7.5/10. The only reason it's not a 9 is because they can't handle the amount of power I want to push to them and the off axis tone issues.
Polk Audio Coaxial: rear stage
Nothing to write home about. They sound decent and can take loads of power. They seem to be built to be work horses vs being sonically tops. That's not to say they sound bad, because they do sound better than the stocks. 5/10.
So I got
Focal 165 CA1 coax: rear stage
Great improvement over the polks by far. The really great thing is you can direct the tweeter when mounting the speaker, so you can better design your rear stage and not worry too much about placement. 7/10.
Boston Acoustic g310: subwoofer
excellent and very under rated sub in terms of quality. I went with these because i wanted a great sub for a sealed box to conserve space and provide the best base response. They provide a great round solid boom instead of a brrrrrr. The response was on point. The really good thing is it maintains its freq response at loud volumes. My only issue with it was my fault. I wasn't paying attention to my amp ratings when I bought these, so I wanted to push them more than I could. 7/10. I needed an upgrade, so a ran them hard and burnt them out.
Round 2 system: knock out.
Hertz HSK 165 component: front stage
unbelievable
components. At first I wasn't impressed, but that was because I still had the Bose feeding them. Once I bypassed the Bose these things shined like nothing I've heard as a whole. Yes, the tweeters TO ME sounds better in the focals, but that is more because the focals sounded "sparkly", exaggerated a little without being harsh or tinny. These were an "accurate" reflection of what things were supposed to sound like. Especially when combined with the woofer. Again, even though I don't have the woofer running as low as they can go, for those that would, these sound AMAZING. The woofers tone is solid and flat. No discernible bump in any point of the lower frequencies. The best way I can describe this set vs the focal is the focal are perfectly engineered to have the freq stand out and hit you without being harsh; with these it sounds like a woman singing to you acapella in a dead silent room...a very smooth and accurate tone and feel...sexy lol. The off axis freq response is excellent in these vs the focals. You can move around, adjust your seat and everything will sound the same. I give these a 9/10. Highly recommended.
CDT hd6-EX coaxial: rear stage
Since i was bumping up the front stage to handle the power of the amp, i decided to do the same for the rear...and i wasn't disappointed. This thing runs like a champ, very good set for rear fills. The balance between the tweeter and woofer is great. Sonically they are very good. I really didn't pay as much attention to them as I did with the front stage and subs, but the time I did give them a close listen I was very pleased. One of the reasons I didn't give it that much attention over all is because of the eq curve I'm giving it. I just needed it to perform well within the eq curve I needed and accept the power I was giving it, and that it does very well. They far outdo the Polk Audio and focal coax. 8/10.
Image Dynamic IDQ V3: subwoofer
I love this sub. It is not meant for rocking the block, especially one. If you have a 3 or 4 sub set up, you could probably do it. If rocking the block with a great sound is your route I would go with a Sundown sub. This sub is excellent for a small form factor box which was my goal to conserve space. Even with a small box, this sub gets pretty loud. Great thing is the voice coil is very responsive and practically instant, with great extension. Meaning it gets loud (relatively) and is still accurate in base reproduction. I really can't find any faults with this sub. I mean it is really pristine. 9.5/10.
I ended up blowing the IDs because I forgot I added a lot of base to my subs eq graph 25-45hz @ +10db and forgot. I shouldnt have been going below 35hz. It took three months of HARD playing for extended periods...a couple trips back and forth to Canada none stop playing and they up and stopped. I melted the spider.
Sundown SA10 D2 or D4
(I don't remember which version I have): subwoofer
I went with the IDQ first because I didn't think a performance sub would play as clean. Boy was I wrong. These subs hit harder than the IDQ, can take more power, and play as pretty much as clean. Best of all, I'm now playing a ported box so I have 3db more, and not noticing any quality difference. My only issue is I have to redo my sound conditioning of the car because these are hitting harder than my previous setups and I'm noticing new faults(mostly around the attachments on the trunk). 9/10.
The setup:
I drilled a hole just above the glove compartment to run a 4 gauge line to the trunk.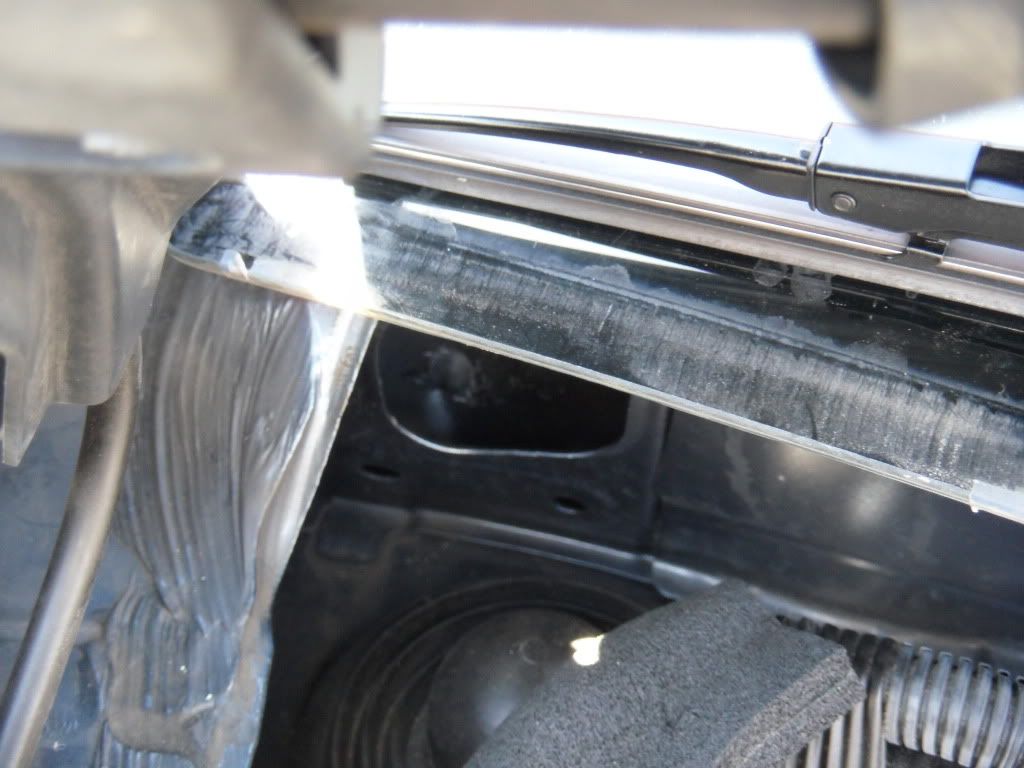 I put an 80amp blowable fuse in the engine bay, and then put an 80amp fuse switch in the trunk. From there fed a 4 port distribution block to feed the amp, processor, carputer, and regulator. Then a 4 port distribution block for grounding which is grounded behind the seat. I spliced the audio wires feeding the speakers from the factory amp and fed them to the Rockford 360 which flat lines the signal and then does its magic (ill get back to this), then over to the Alpine. I also fed the optical out of the carputer to the processor. This way I can play my music through the carputer, and if I need switch, over to the cars audio system. My audio system is a true 32bit 48khz digital system now, higher fidelity than the Bose.
The speakers have a specially bought mount for them (anyone planning on doing this and come across a set of mdf mounts being sold on ebay and said to fit, DO NOT BUY THOSE) and foam backing cover to prevent dust and water from dripping on the magnet as well as reflections on the door interior. I wrapped the surface part f the speaker mount with thick vinyl and sealed it with silicone to get the best sound. When mounting it on the door, I put dynomat on the door surface behind it and weather seal on the mount. The sound is soooooo tight

.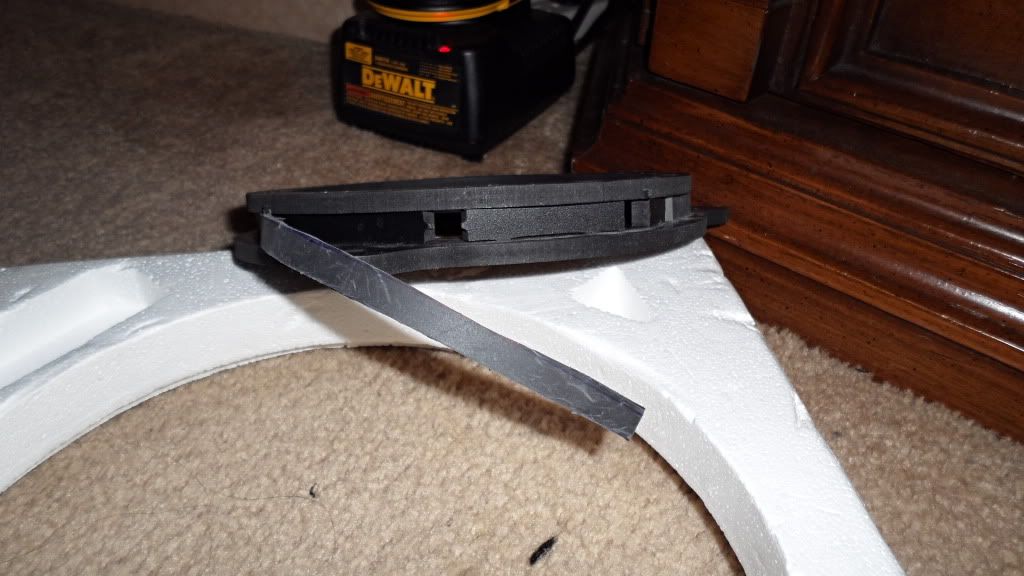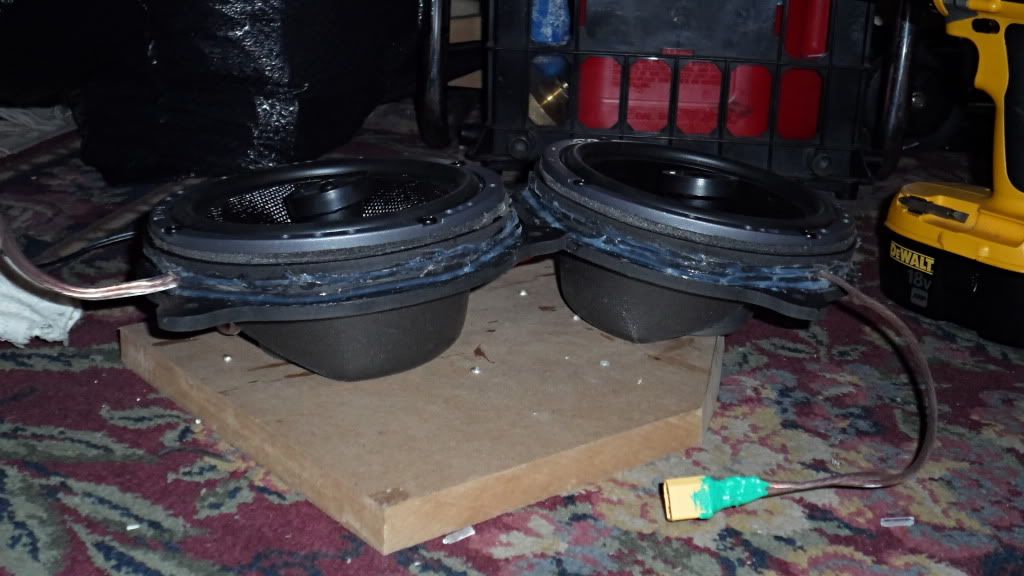 I left the factory speaker wiring because although a lot of people recommend changing them to thicker gauge (car audio enthusiasts) I knew the freq I was planning on sending to them (at least the front stage), the distance and power, I really didn't need a thicker gauge.
Next I dynomatted the back seat area, portions of the outer door (mostly by the handle) and inner door frame (not that necessary), trunk lid, inside the trunk area, and the inside rear quarter panel, on the plastics, and behind the speaker mounts.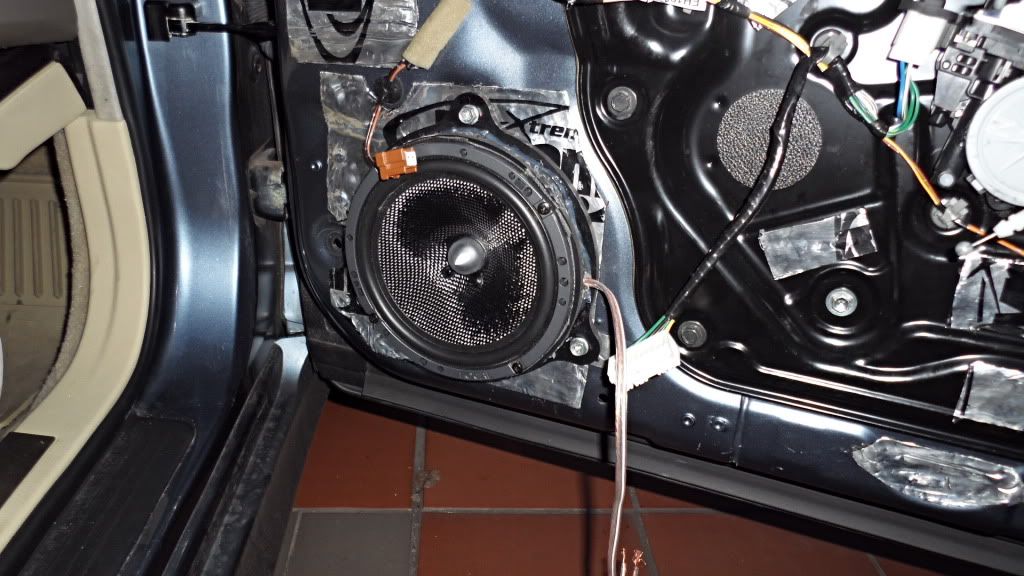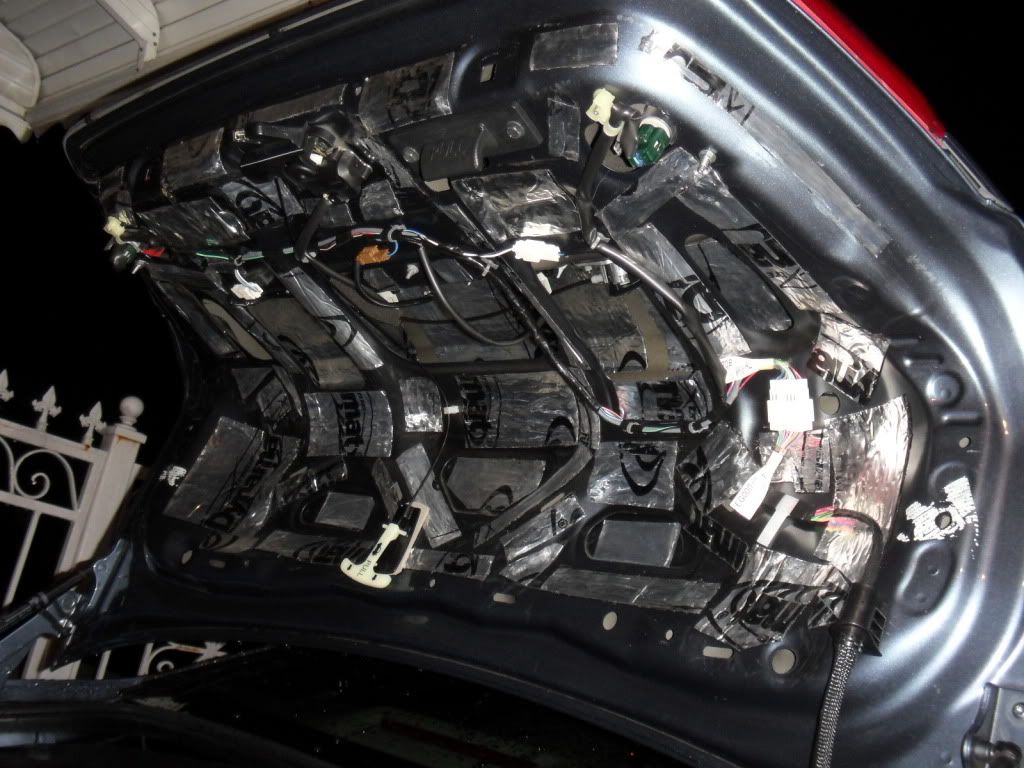 Point to note, a lot of people are under the impression that these deadening materials are meant for sound proofing, THEY ARE NOT. They are also really not meant to coat the entire surface unless you have an older car or major rattling problems. I used way more than i needed because i just happened to have a lot, so just fyi, dont buy with the thought of coating an entire area in this particular car. Just meant to stop vibration, and a byproduct to the thicker ones they can HELP in sound proofing in a limited way. So for "sound proofing" I coated the door, back seat, back floor, and passenger floor, with mass load vinyl.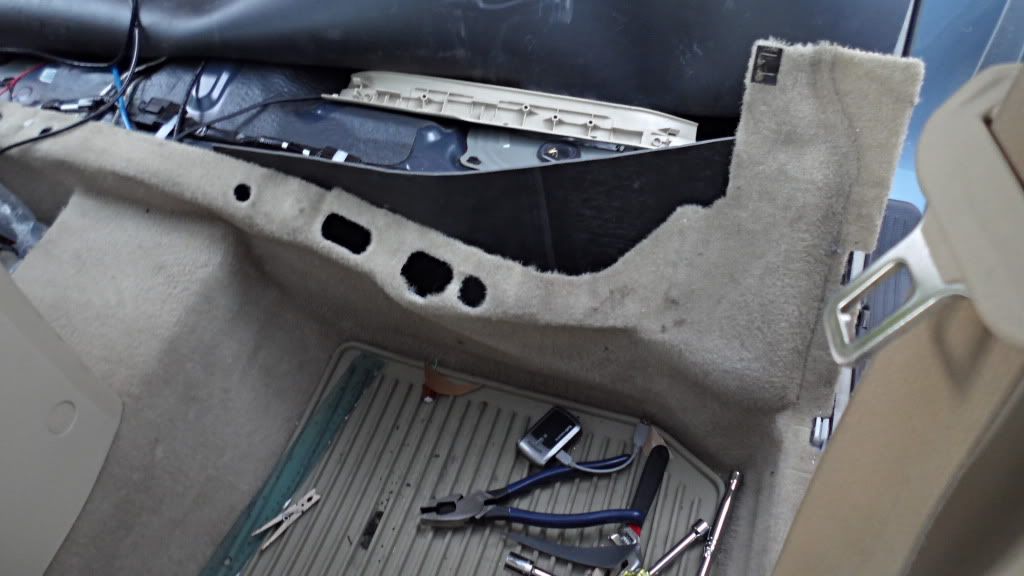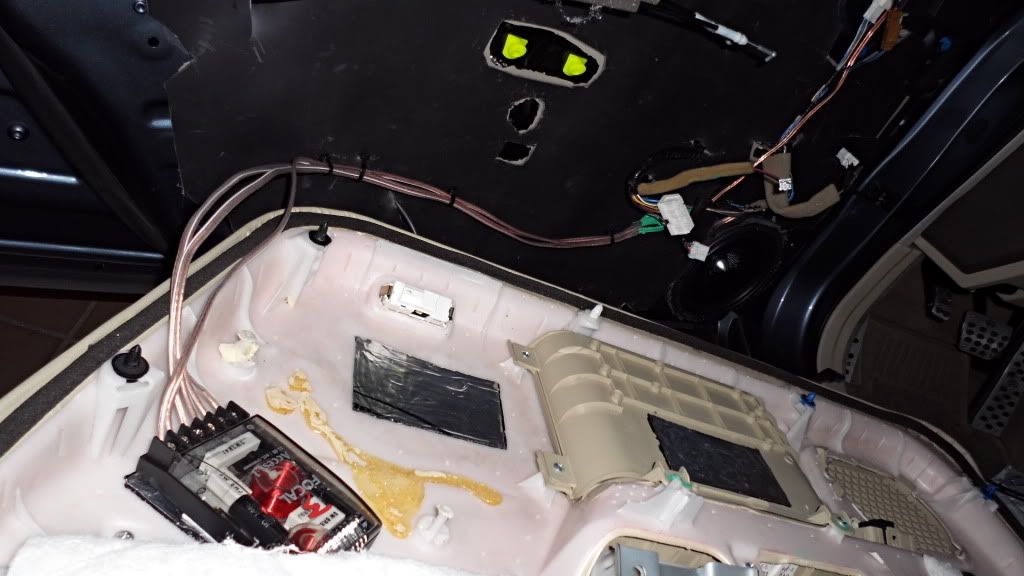 I then used some closed cell foam to put between the rear deck and the metal below it, and anywhere where plastic was touching metal or other plastic.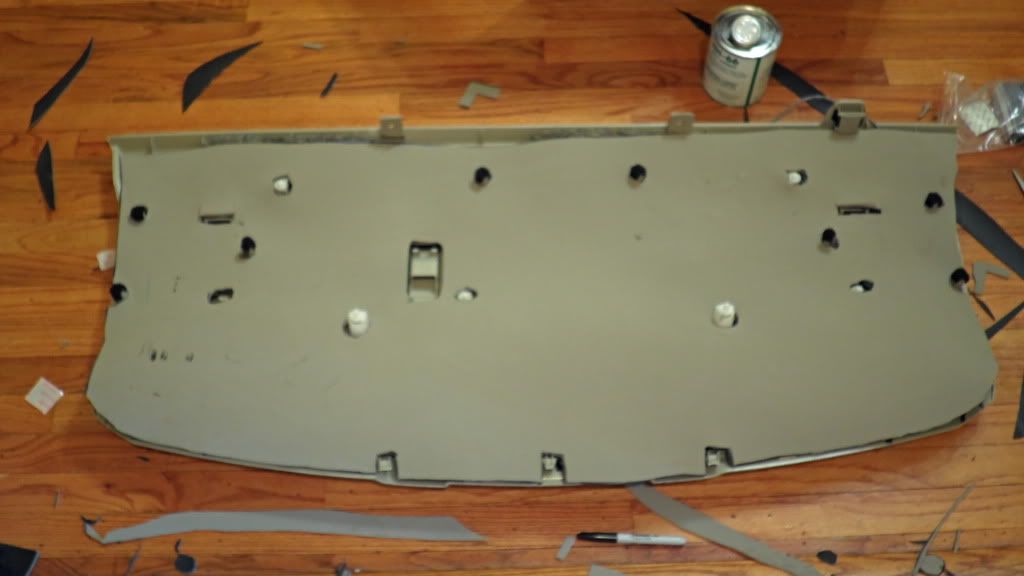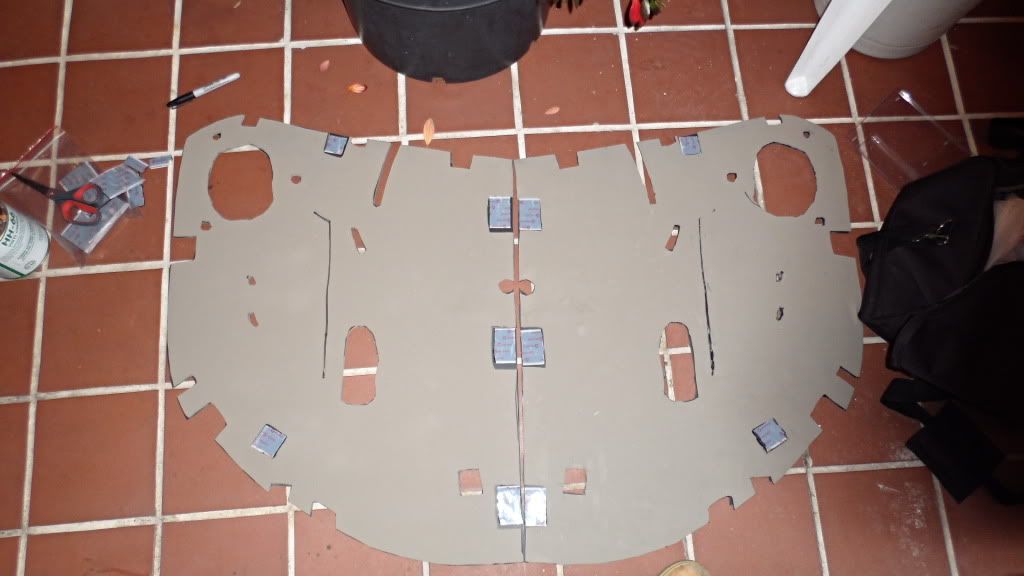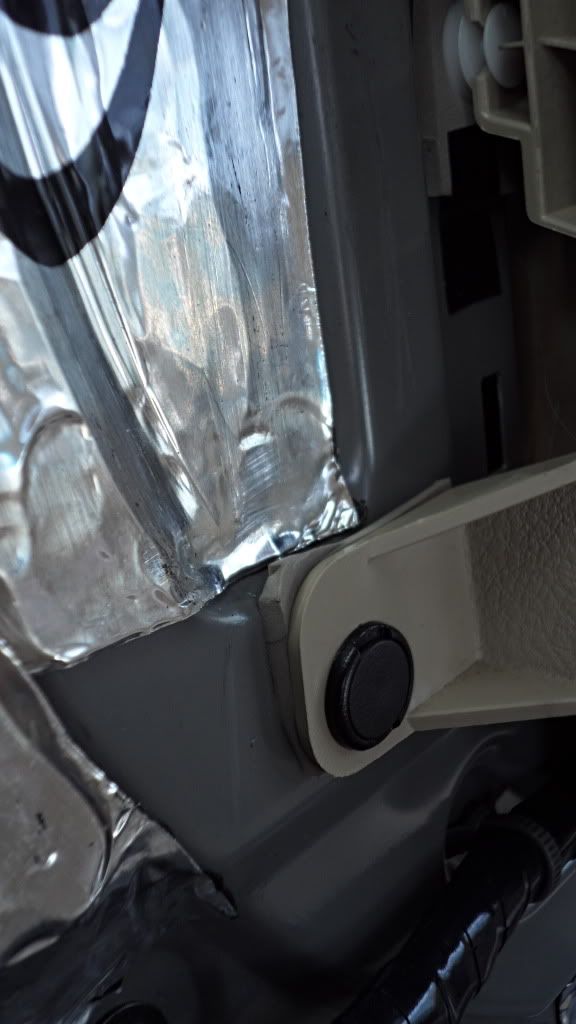 Then I built my sub box. Simple box with bracing on all four sides from the bottom and double baffling for the sub mount. Inside I coated it with closed cell foam to prevent bouncing waves to give a solid dead base with no reflections.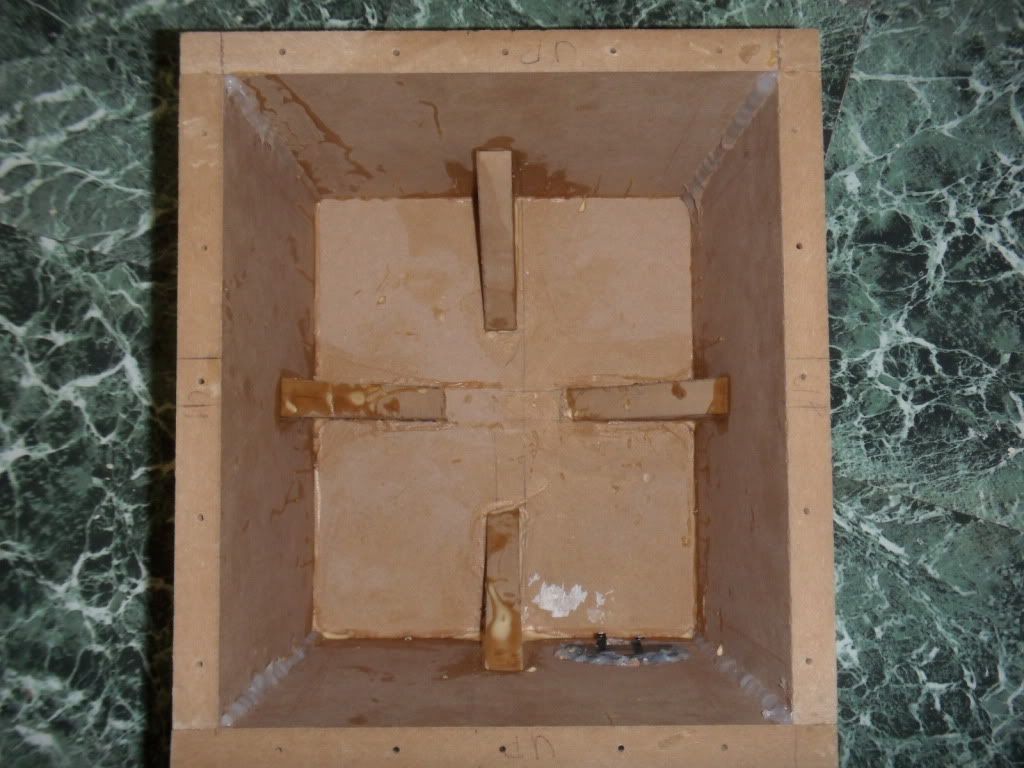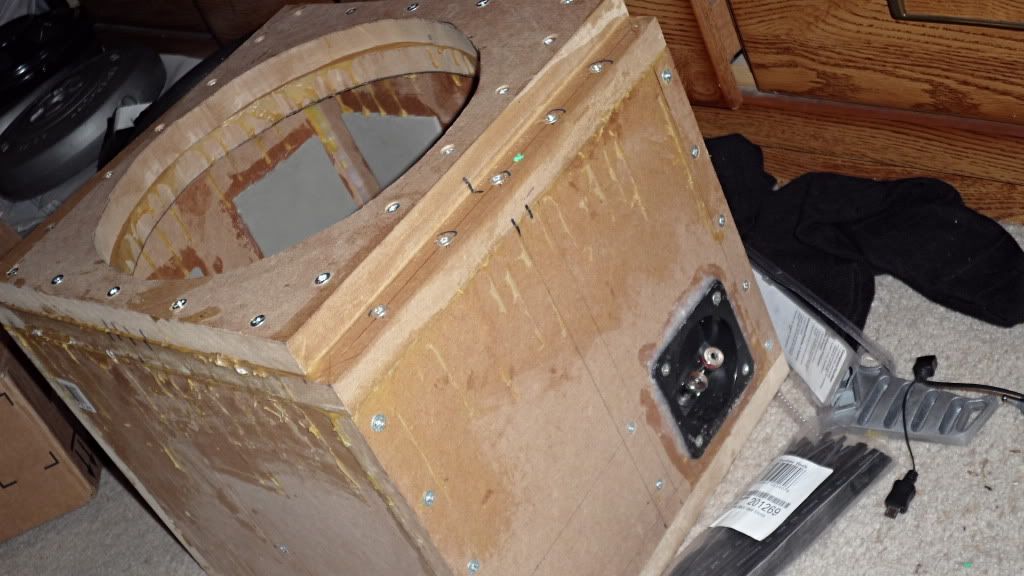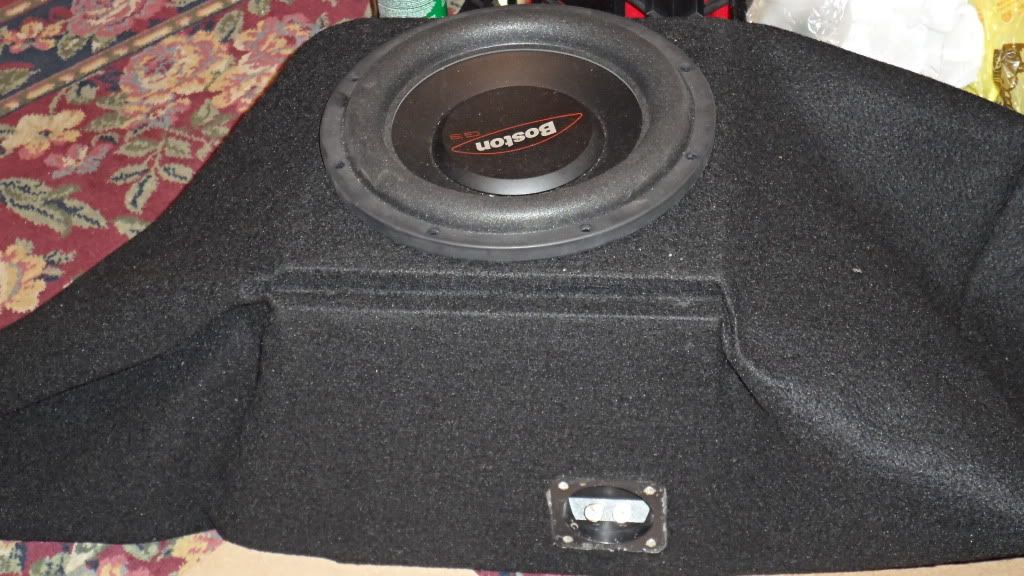 The first two boxes I built were perfect, but after analyzing the cost and time to build the box, I decided I might as well pay someone $80-$100 more and call it a day. And that's what I did for the ported box for the Sundown. I had it built to the perfect size and shape to maximize space in the trunk. It fits snug against the back wall and right under the rear deck. It's actually a good thing I paid someone, because I would have built it with a port instead of a slot and probably ended up with port noise. From what I understand, it's a big folly of first time port builders.
It really looks much bigger than it is in the trunk.
Back to splicing the wires and feeding the amp. When first entering the car audio situation with this car, I was under the impression that it was only the speakers in this car that sounded poor. So I figured that having the factory amp feed the aftermarket amp to then feed the new speakers would make things sound better (even though logic and experience would dictate one amp feeding another will never be a good thing, but whatever) since everyone here seemed to be doing that. Once I swapped the speakers it sounded better. But, it sounded brittle, border line slight distortion (even though the focals shined through like a champ). Unacceptable. I didn't spend all this money to end up with this. I ended up bypassing the Bose all together and listening to music through the carputer through optical cables and using the feed from the Bose for the phone and navigation. Eureka, I have a sound system that is amazing and still have the functionality of the cars audio stuff.
I fed the 360.3 remote to inside the arm rest.
Then I tuned the car. I got test tones, pink noise, a tuning mic, pre amp, frequency analyzer software, and an oscilloscope and went to work. I won't get deep into this, but suffice it to say the car sounds like a dream. And watching movies is crazy! Since the 360 has four presets, I have one set to the clean flat tune, outside car bumping, by myself, and with passengers. Great overall setup.
This is before I tightened everything up.
Well,I think that's it.