Hey guys!!! remember me!?!?!?
Well NICO, I figured it's time to share another one of my in depth builds with you guys... I haven't really been on much lately, but I've been out of the game for a while, crashing cars, and building GTR's and stuff.
So yeah, a couple things to get out of the way... YES, this a ford engine, NO, I don't care how much better you think a LSx is. NO, this is not going to be "bawlah" build, it's going to be a budget oriented "every man build".
I think that this build needs to be seen by the masses, and not kept to myself behind garage doors...
So, onward shall we?
I went and got me a fancy S14 shell, figured I needed to do something neat with it...
Origin 30mm front fenders
Origin Type II 50mm rear over fenders
Origin Stylish side skirts
Chaser "Stylish" front and rear bumpers, front singnals/side markers deleted (he decided to cheap out on these due to not wanting to destroy $$$, I agree)
Chaser Hood, fits like s***.
rear trunk gutted to bare skin and tail light panel.
Here it is...
Engine bay is completely wire brushed to bare metal, and cleared over to keep the rust away. I'm going to tub the wheel wells, and call it a day in there.
Current paint sucks, the rainbow flake sucks, the clear sucks, and since I'm going to be driving the living s*** out of this car, I've decided to sand her down somewhat smooth, the wrap the entire car in vinyl, at least that way, when I hit s***, my Origin body stuff wont explode into 5.6 million peices, it'll hold it's shape, and look better than some zip tied fiberglass frankenstien BS. Color is TBD.
Interior is pretty straight forward, and spartan.
front end fit like s***, not due to Origin's quality, but due to the previous owners half assery, so I took some time to get everything lined up the way it should be, lot of FG trimming and sanding. I'm still not done, but got the majority of the front end lined up half way decent.
What it looked like before, as a point of reference for you guys...
I took the chassis harness, and brought it down to bare essentials... pile on the right is the leftovers...
Stripped down the steering column, lost all switches, so I made my own panel. Still needs a tad bit of work, maybe another couple of switches, but whatever.
I just picked up some Driftworks lower control arms, they should go well with my PBM inners w/rack spacers, SPL outers, and modded knuckles.
so yeah, pretty cool as far as the shell goes... now, lets get to the part that I'm sure you guys are like "what the f***?" about, the powerplant.
My choice of engine is the quad cam, all aluminum 32 valve 4.6L Lincoln MKVII engine, or three..
... basic run down? I have two different engines, both MKVIII's, one is an earlier model, rated at 280hp, and 285tq, which will be used as a test mule/mock up engine. The jewel is the 1998 InTech, or Teksid block engine, rated at 290hp, 295tq in stock form. These motors are basically a detuned Cobra engine, but all aluminum, VS cast iorn. The pretty much the only difference between these, and the N/A cobra motors, are the intake plenums. Since the non InTech engine is going to be a mock up dealy, I'm building the 1998 Teksid for superchargationz. Basically utilizing the stock SC set up from a 03-04 cobra, crank, pistons, and rods, all of which can be had for pennies on the dollar, and are stable to 600+whp. Now, you might be saying "Look at the size of that thing!!", well, I get that a lot, but in reference to the engines, yes, they are wide, yes, there will be clearance issues, and no, they're not that effing big... a DOHC is actually proportionately smaller than a VH45, AND only weighs roughly 50-60lbs than a KA24DE.
Onward... In my trip to go pick these motors up, I took the other non InTech motor that was in the better shape of the two, and traded my friend for a 01+ Mustang GT 5spd trans with some cash on top, which helped with the initial cost of the motors, and I got the trans I need out of the deal. It's a Tremec 3650 5spd, good for some repectable power numbers. I also scooped up some 4.5" Ranlet Blast pipes/muffler, and some Driftworks front lower control arms..
checked the trans/engine fitment (just to make sure you know), and everything was spot on.
Got home at around 5am, unloaded car s***, and hit the sack.
Next up will be a OEM twin plate cobra clutch, and lightened flywheel, once I get everything mated up proper, I can drop the motor in the hole, set it where I want it and start fabbing up some motor/trans mounts.
Cobra cranks are forged, OEM MKVIII's are cast, so yeah s***. OEM bottom end is limited to around 400hp, then it want's to fly apart. Good thing all cobra parts will bolt right in, and are readily available. I found a Cobra crank for $250, forgot what brand, but used H beam rods for $300, and OEM cobra pistons can be had for around $150. Set up like that would be near bullet proof.
Basically use cobra internals, 03-04 supercharger set up, small pulley, exhuast, and a decent tune, and it should be up to around 600 on pump, daily driveable (remember, it would still be relatively "stock"), like a large number of "Terminator" owners have. Only difference would be the Aluminum block from the Lincoln.
Another bonus, is the stock 03-04 cobras have OEM twin plate clutches, found a used one on ebay with around 1,600 miles for $300 shipped.
Stock EFI for now, might run something a little different with the SC build though.
Lots of ford transmissions bolt up, you have your T5, which the MKVIII would destroy, the 01+ Tremec 3650 (what I have), and the Tremec T56... other options as well if you're running AOD/E, C4, etc etc... transmission options are pretty much endless in the A/M.
Got the InTech pulled down, and cleaned up a bit. I pulled a valve cover to check the heads, not bad at all, no sludge, minor carmelization nothing notable. The regular engine is still in the corner, like a neglected child. These are some fairly large engines for such small displacement....
Before...
After...
I usually stay away from the domestic swaps too, especially the LSx's. Like dude said, recent demand has made the prices skyrocket. Little do people know, that the MKIII's make roughly the same power (InTech engines), and have been driven by some old man to the golf course, not by some mullet ragging the s*** out of it for the last 15 years. So it would probably make MORE power on a dyno hahah...
Springs are still closed, so in my frustration, I went to the garage and opened a can of elbow grease...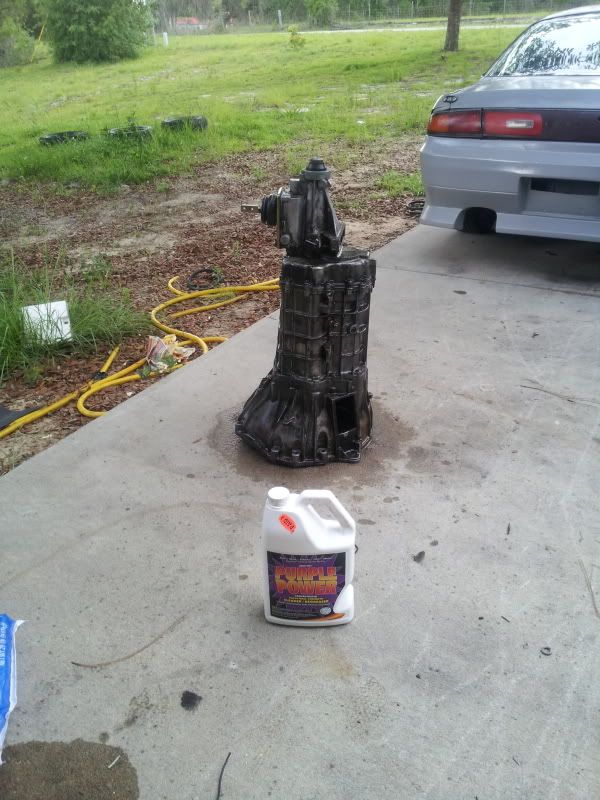 After...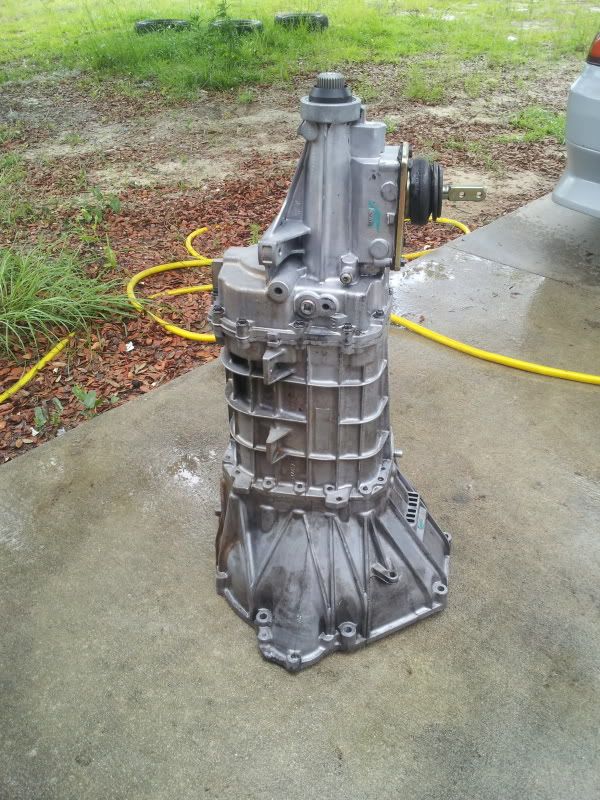 I wish I had a decent pressure washer, and some aluminum stripper, but it's good enough now to keep my hands/work area clean while I mock stuff up. Both engines are next.
I know some people are like "Dang, that's a big ol' engine in a little bitty car!", well, here's some knowledge that I've been sitting on since before I decided to do this swap......
S14 strut towers....
S14 frame rails...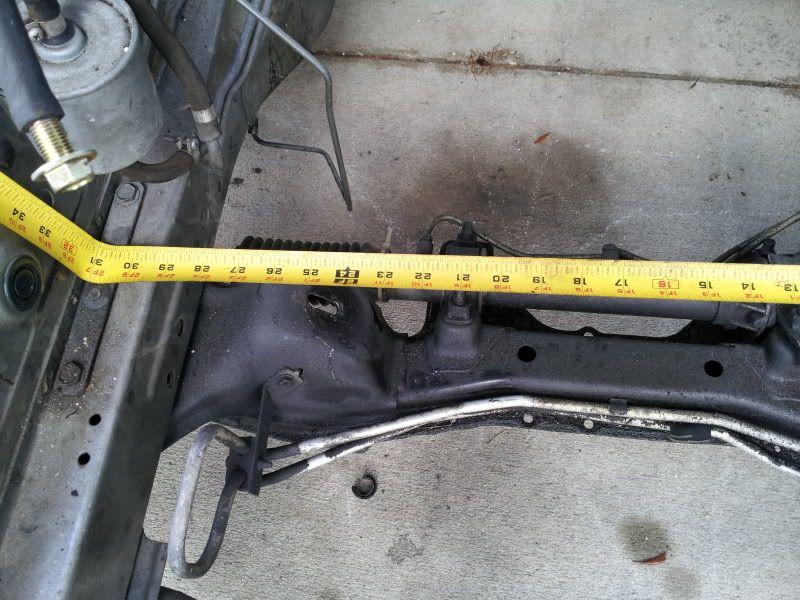 DOHC V8...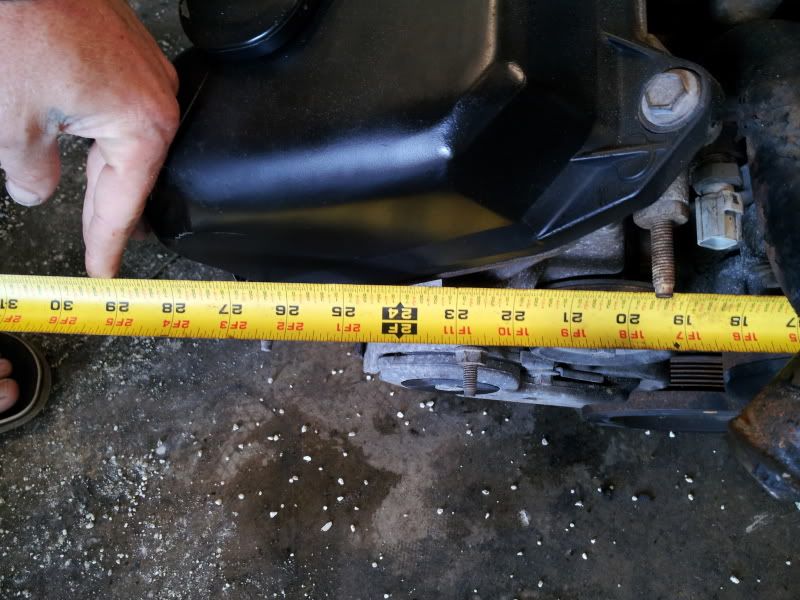 Another mans unfinished attempt at this swap...
Eat my shorts nay sayers....
I began my path looking for a EFI 5.0 and T5. Then I went to the junkyard, and found this MKVIII and was like "wait, wut? alum DOHC 32v?" why go for a $700-$800 210hp 5.0, when you could spend $200, get 300hp, with one of the most sought after 4.6L blocks? That was my reasoning, cost, AND out of the box power. Not to mention an endless aftermarket like a SR20.
MKIII engines are rear sump too... I saw a Merc Marauder front sump conversion for BNIB for $200... figured maybe since the Merc is front sump, so would the Ford Crown Vic it's based on. Just haven't delved any deeper into it... maybe I will now... might be $20 at the bone yard from some old cruiser, save $180.
I'm still shooting for fire up/driving to end up costing less than a SR on a pallet. Right now, I have two engines, and a TR 3650 5spd for less than $400. I can pull down the one engine, and sell the bare block for $500 alone.
Got a few things knocked out today...
Core support drilled out to make life easier mocking up mounts for the 32v, also threw some purple power at it to clean it up a bit.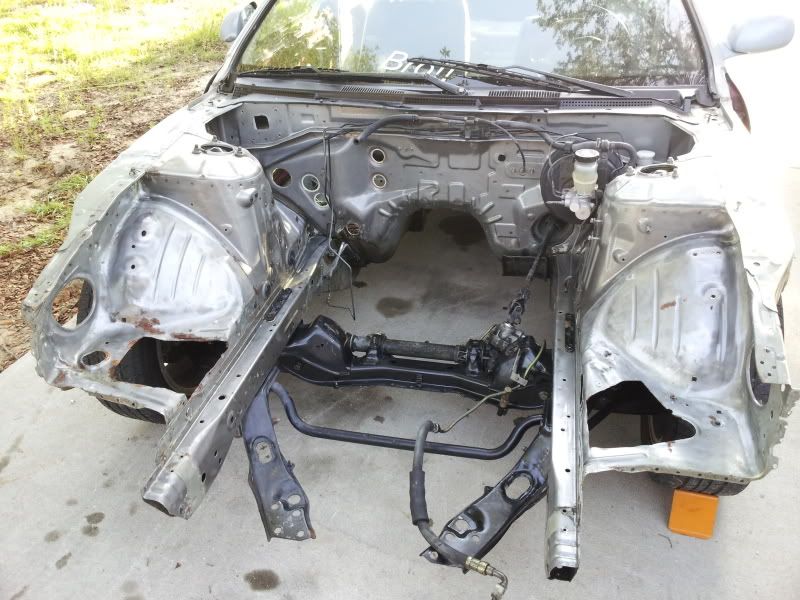 Might have to go tube front on this car, it was always an option, but never a requirement... now it's looking to be the latter, as you can see, the core support is a bit boogered up...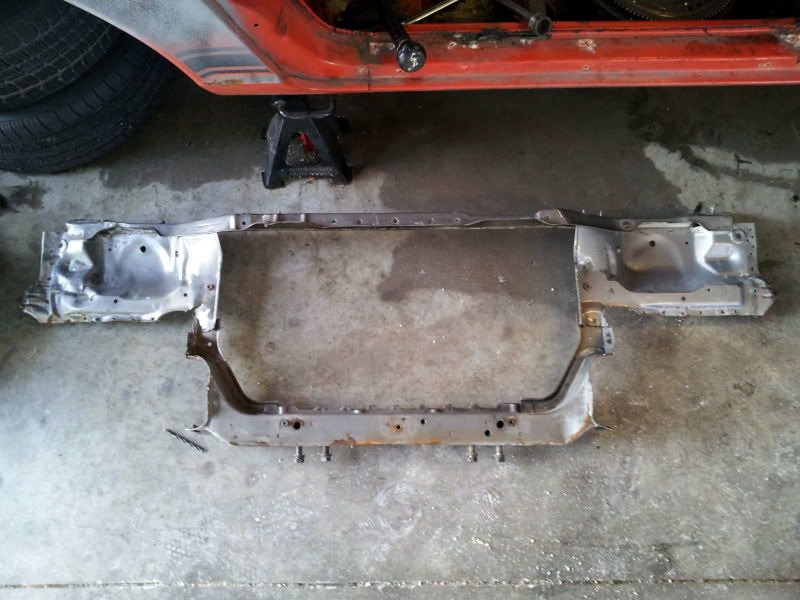 I was lucky enough to scoop up an intake for my throttle body. Unknown brand, but was told it came with some aftermarket supercharger kit for our buddies 07 GT500.
Then, just screwing off in the garage, I found that a S14 5spd trans cross member is awful close to being perfect (redrill mount holes, woopdy doo!).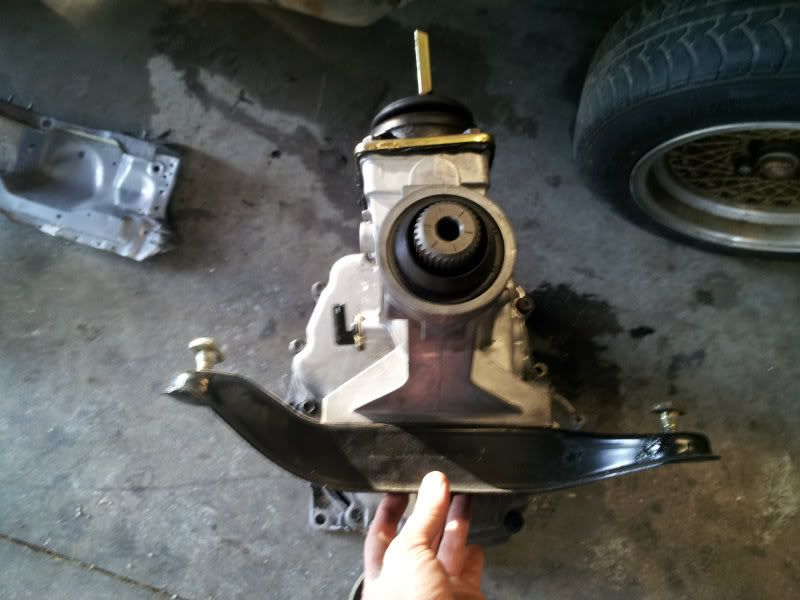 Now I'm just waiting on my buddy's hoist to be freed up, then it's time to make mounts and get this big bastard in the hole....
Sharingan 19 wrote:Don't you love it when a plan comes together. That steering assembly looks like it comes over at a pretty aggressive angle (since ka's are do narrow) to meet the rack. Any anticipated clearance issues in that corner?

This actually looks like less of a pain in the a** than the vh45 and doesn't have that hideous intake manifold :lol:
It is nice when things seem to fall into place in unknown territory...
steering colum/oil pan are the main two issues. Oil pan is possibly being solved with a crown vic front sump pan. As far as the rear goes, I explained it best on another forum, as I've been asked that several times, so I'll just quote here.
Blackzenki82 wrote:On the MKVIII Lincolns, you have to remove the steering shaft to get the motor out... there's a good sized opened made on the OEM headers for the shaft to go through. As soon as I get my bro's hoist over here, I'll be doing some test fitting to see what kind of clearance issues I'm going to have. Might have to do something drastic, who knows, I'll cross that road when I get there...

1998 Teksid...

1996 Teksid...

Appears to have more clearance with the 1998 header... both headers on the passanger side are cast iron, block huggers, only the driver side extends...

Who knows, might be a perfect fit.
Figured it was pertinent info for the build on this forum.
well, back to the chassis....
I knew that the arch cut outs for the rear were kind of rough, but I had no idea. I pulled the 50mm overs off, to get em prepped for wrap, and to fix the arch cut outs...
Check this out the prev owners work at it's finest.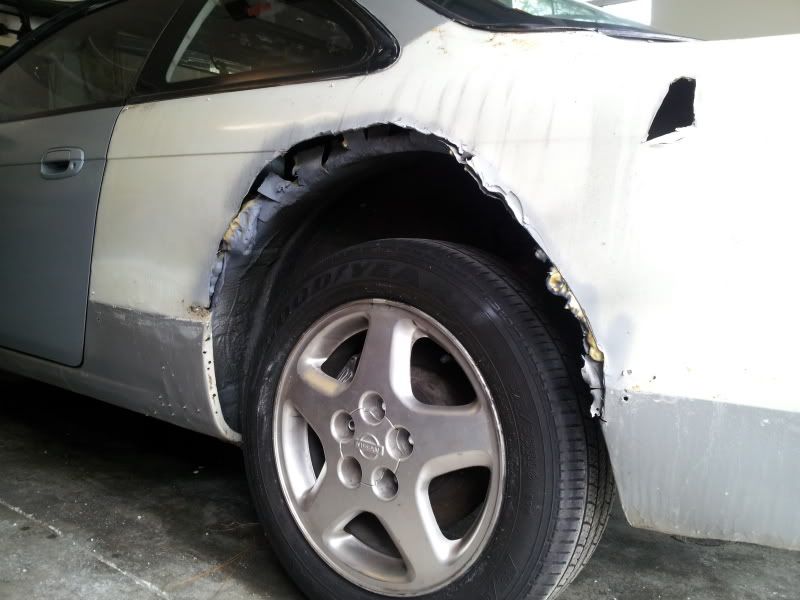 You guys didn't know that expanding foam sprayed randomly is just as good as a weld?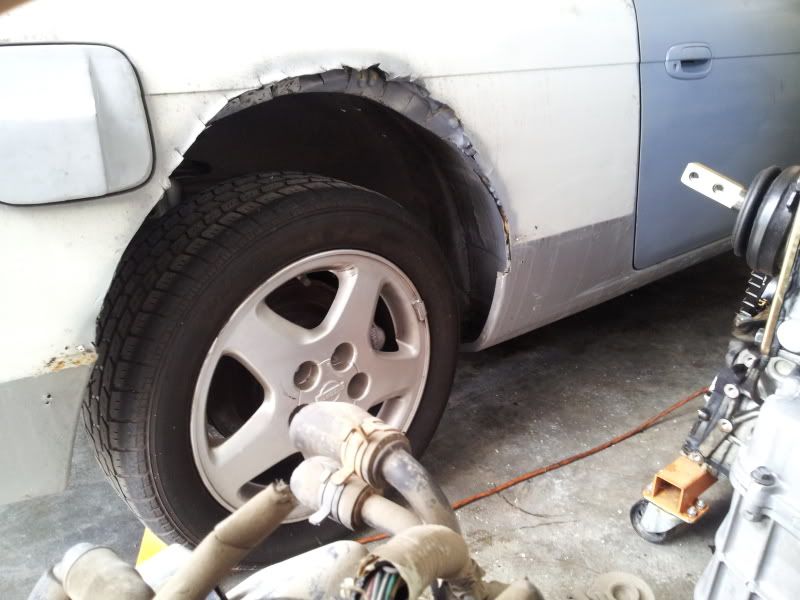 well, looks like I have some work ahead of me, redoing EVERYTHING....
This post is Approved by Jaws.
Don't worry bros, I got this....
Traded out my "stylish" aero, for something a little more agressive...
AIT URAS Type 4 cow plow...
Might as well tube chassis with as much fiberglass I'm throwing at it.
Did more stuff and things...
This AIT/URAS Type 4 actually fits fairly well, for being rep/knock off aero...
I'm going to love the look I think, perfect amount of aggression for my choice in motor I think...
Beiber aka Eric Conkling learning how to get his flux weld on... JAY BEIBS!!!!
Oh, and I got a new coffee pot, available only at walmart (in ricky bobby voice).
Next up on the to do list...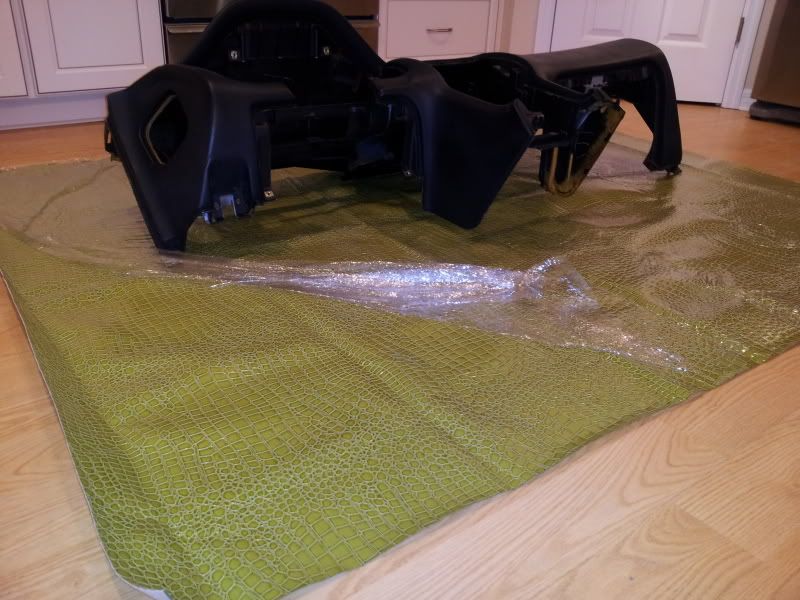 I'm probably going to have a professional do it, so it doesn't end up looking like s***.
It's neon green, I was going to roll it out in sunlight, but Debby's out there dumping a** loads on rain on me..
here's another shot, still off, but better represents the color...